Isaac Diaz – Desdemona, Texas
5-time WNFR qualifier
1-time RNCFR qualifier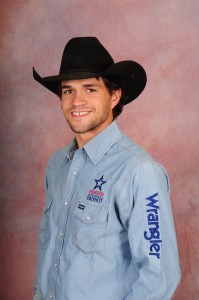 Isaac Diaz could be one of the most determined contestants in the saddle bronc riding. He qualified for his first Wrangler National Finals Rodeo (WNFR) in 2007 but had some unfinished business to take care of.
He still continued to compete in the PRCA but in 2010, he made college rodeo and his education a priority. He went to Tarleton State University, qualified for the College National Finals Rodeo and left as co-champion saddle bronc rider in the National Intercollegiate Rodeo Association.
Isaac started riding bucking horses as a teenager, and he has been hard on the rodeo trail since joining the PRCA in 2006. This year will be his fifth trip to Las Vegas. He made his fourth trip in 2013 but missed qualifying in 2014. Still, Isaac has certainly kept busy even when he didn't compete at the WNFR in 2014. After all, he was there supporting his wife, professional barrel racer, Britany Diaz, who competed at the WNFR in 2011 and 2014. She was North Dakota's first cowgirl to qualify to the WNFR.
Ironically, Isaac's 2015 WNFR back number is 16, the same back number that his wife wore in 2014, and though she didn't qualify this year in the barrel racing, Britany will be there to support her husband this time around.
Isaac grew up in Florida but came to Texas to attend college at Vernon. He later transferred to Tarleton and now he and Britany live close to Stephenville at Desdemona.
He married Britany in 2013, and the couple is a built in support system for each other in their professional rodeo careers. Seven of Isaac's rodeo wins in 2015 came from Texas, as well as five Texas rodeos where he was co-champion, making the state not just his home, but his most lucrative stretch of the rodeo road.
At just 29 years old, Isaac already has over $700,000 in career earnings. He starts the WNFR with over $103,000. He'll be one to watch come December.