Spencer Wright – Milford, Utah
2-time WNFR qualifier
1-time World Champion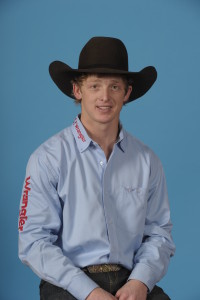 Last year was Spencer Wright's first trip to the Wrangler National Finals Rodeo in Las Vegas, and he left with a gold buckle. There's no telling what he'll accomplish this year as he defends his world championship in saddle bronc riding.
Spencer joined the PRCA in 2012 and was Resistol Rookie of the Year that year. Though he's coming in at the 10th position this year, he's likely to thrive through the 10 nightly performances. He is a Wright after all.
The Wright brothers have dominated saddle bronc riding through recent years and have set a record as the highest number of brothers to qualify for the WNFR ever. On top of that, four of them all made it together in the same year, 2014, all in the saddle bronc riding. Spencer was the youngest of the qualifiers that included Cody, Jake and Jesse.
That was a feat made even sweeter when Spencer won his world title, moving from 13th place to first. He has an even better opportunity for a gold buckle this year with the increase in prize money.
This year Spencer is trailing behind his brother Jake, who sits at no. 8 and his nephew Rusty, who is a first-time qualifier in the number two spot. Odds are good, even if Spencer doesn't win another world championship, one of the Wrights just might. Spencer was also the third of the brothers to win a title in the National Intercollegiate Rodeo Association. He was their saddle bronc riding champion in 2013 for the College of Southern Idaho.
This year, he won the storied Pendleton Round Up in Oregon and was champion and co-champion at eight other rodeos throughout the season. For his efforts, he's won $74,338 in 2015 earnings and he stands to win even more in Las Vegas. Spencer comes from a ranching family in Milford, Utah and has 12 siblings, so you can bet the cheering section for the Wright boys will definitely be loud.