Taos Muncy – Corona, N.M.
8-time WNFR qualifier
2-time World Champion
6-time RNCFR qualifier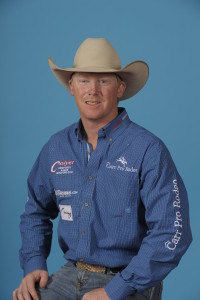 At 28 years old, Taos Muncy is already a veteran saddle bronc rider. He holds two world championships.
This will be his eighth time to head to the Wrangler National Finals Rodeo in Las Vegas, and he comes in in the fifth position, ready to inch his way up round by round to win a third world championship. Given his success in rodeo, it's not a surprise that Taos comes from a rodeo family out of New Mexico. His dad was a roughstock rider and his mom a barrel racer and breakaway roper. His sister Jordan competes in the WPRA and is married to WNFR saddle bronc rider Cody Taton. Even his name, Taos, is in honor of a rodeo — the Taos Days Rodeo — as well as a bull rider friend of his father's with the same name. So rodeo was perhaps predestined.
Taos joined the PRCA in 2006 and made his first WNFR the very next year in 2007. That's also when he won his first world title. That was a good year for this bronc rider. He took the win at the College National Finals Rodeo and joined an elite group of three cowboys to do earn both championships the same year. This was while Taos studied at Oklahoma Panhandle State University and competed for their well-known rodeo team.
The next year, 2008, started out great for Taos. He set an arena record at the San Antonio Stock Show and Rodeo, but in April suffered a badly broken leg at a rodeo in California and didn't make the WNFR that year. He's more than made up for it since, making the top 15 from 2009 to present without skipping a beat.
His second world title came in his fourth trip to the Thomas & Mack in 2011. That was also the year that he and his wife, Marisa, welcomed their daughter, Marley, into the family. This year, Taos has won 11 rodeos, including the Wrangler Champions Challenge Finale in Omaha, Neb., and was co-champion at the Elks Helldorado Days. Taos will be a steadfast force to be reckoned with in December.