Tyler Corrington – Hastings, Minn.
3-time WNFR qualifier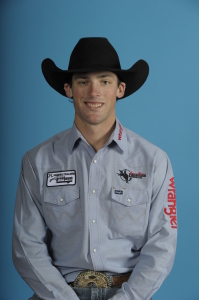 Tyler Corrington has a lot of heroes that inspire him every time he gets on the back of a bucking horse.
Starting with his father Doug who was a three-time champion in the Great Lakes Circuit. He also looks up to five-time world champion Billy Etbauer, and Wrangler NFR qualifers the late T.C. Holloway and Tom Miller. The inspiration from those men and Corrington's dedication and ability have set him on a path to live his dreams of being a great cowboy and a great bronc rider.
Corrington joined the Professional Rodeo Cowboys Association in 2006 and won a title that members only have one opportunity to get – Resistol Rookie of the Year. He qualified for his first WNFR in 2011 and finished eighth in the world standings. The next year he missed rodeo's championships but came back with a vengeance in 2013 placing in four rounds.
2014 has been his best year in and out of the arena. While he enters the WNFR in 7th place a big personal change came in October that will have more lasting impact than any gold buckle. Four days after the regular season was over, he married his fiancee Morgan. It's no surprise that a host of bronc riders showed up for the celebration that even included WNFR qualifier Dustin Flundra's son Ridge who was the ring bearer.
A highlight in the arena this year was setting a new record at the Missoula (Mont.) Stampede. He was 90 points on Crow Nation, a horse owned by Sankey Rodeo.