Wade Sundell – Coleman, Okla.
7-time WNFR qualifier
1-time RNCFR Champion
3-time RNCFR qualifier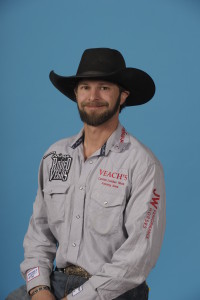 Wade Sundell's larger than life personality shows up every time he gets on a bucking horse.
Full of humor and charisma, Wade has not just won his way to the top of the ranks in the sport of rodeo; he's won a legion of dedicated fans along the way.
Wade, who grew up in Iowa, began riding roughstock as a kid getting on sheep and calves. He spent many of his teen years focused on bull riding and high school wrestling. Wade now concentrates on the event of saddle bronc riding like his dad, Doug, competed in.
Wade joined the PRCA in 2007. It turned out to be a good decision as he has amassed over $1 million in lifetime earnings. He qualified for his first Wrangler National Finals Rodeo in 2009, and he's been making the trip to Las Vegas ever since. That year he also won a Ram National Circuit Finals Championship and in recent years he has come extremely close to a world championship several times, finishing third in the world twice and second in 2010 in a close match for the title with Cody Wright in the tenth round of the WNFR.
And in 2014, the first year of RFD-TV's The American rodeo, Wade took home the win and a hefty $100,000 paycheck. He repeated that again this year. He also had seven rodeo wins and two co-championships in the PRCA that helped get him to the top of the standings, and he just won the Canadian Finals Rodeo.
No one has more fun riding saddle bronc horses than Wade. Expect to see him smiling a lot in the Thomas and Mack Center as he pursues his first world title.