Bray Armes – Ponder, Texas
3-time WNFR qualifier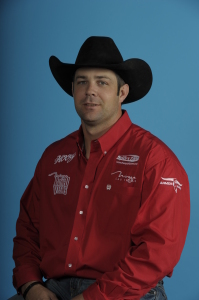 Bray Armes is hoping that this is his year.
At his first Wrangler NFR qualification in 2012, he placed in the top three in five different rounds and finished fourth in the average. The next year, he again placed in five rounds, but did even better in the average winning the WNFR championship.
While this is just his third WNFR qualification, Armes is a veteran of the sport having joined the Professional Rodeo Cowboys Association in 2002. He was still competing in college at the time, first for Howard Junior College in Big Spring, Texas, then for Tarleton State University in Stephenville, Texas.
Armes qualified for the College National Finals round four times and was the reserve champion in 2004. But the most he got out of college was meeting Neelley Riley, a talented barrel racer and breakaway roper.
They got married in 2006 and that saw Armes making his family a priority. He took a five-year break from rodeo and was raising wheat in the panhandle of Texas where he was born and raised. With some money in the bank and the encouragement of those that mean the most to him, he came back to the arena pursuing a life-long dream of qualifying for the WNFR.
The Armes now live in Ponder, Texas and have two children, a daughter, Breely and son, Drake. Not only is his family a priority, so is his faith. He recently gave his testimony at the Denton County Cowboy Church and in his quiet unassuming way lives to be a good example to others.