Clayton Hass – Terrell, Texas
3-time WNFR qualifier
2-time RNCFR qualifier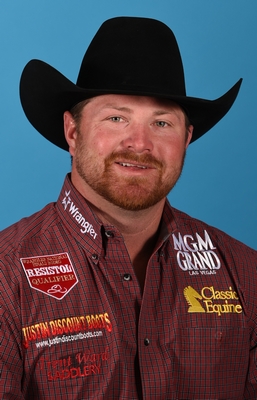 What a year it has been for three-time Wrangler National Finals Rodeo (NFR) qualifier Clayton Hass.
Not only is he entering the 2016 NFR in fifth place with $82,323 in regular season earnings, he is also sixth in the all-around category and definitely in contention for two world titles. Clayton also competes in tie-down and team roping.
He comes by his cowboy qualities naturally. His father is a rancher and has competed some in the past. Clayton's first competition came when he was just 7 years old. He joined the PRCA in 2005 but until about five years ago, rodeo was a weekend and local pastime for him. He decided to make a run for the NFR with encouragement and help from world champion steer wrestler Byron Walker.
In 2014, he placed in four rounds and finished the year in eighth place. Last year he was even more successful at the NFR earning nearly $90,000 and finished fifth in the world. He hopes to keep this steady climb going this year. He will be riding two-time and reigning steer wrestling horse of the year, Landry's Cadillac owned by his good friend Sterling Wallace.
Clayton will celebrate his 33rd birthday during the NFR on Dec. 9. When he was born, his lungs weren't fully developed and he was put on a respirator. Even then he was determined and a fighter.
Those are qualities that will serve him well during this year's NFR. He had two round wins last year and is hoping for more this year. He took some time away from the arena last May got married and added to the family. He has two older sisters who look up to him in every way. When he does make a trip to the South Point for a buckle presentation, his family and friends are sure to fill up the stage.