Cole Edge – Durant, Okla.
1-time WNFR qualifier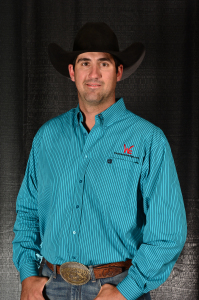 Cole Edge's rodeo resume may not be filled with big championships, but the first-time Wrangler NFR qualifier is more concerned about making good consistent runs and getting a paycheck than buckles.
That paid off for him after eight years as a member of the Professional Rodeo Cowboys Association. He finished fourth at the $1.5 million San Antonio Stock Show Rodeo, and started the 2014 year with nearly $7,000 in earnings.
He kept placing and entered the legendary Cheyenne (Wyo.) Frontier Days rodeo in sixth place in the world standings. Then, a second place finish in the first round there saw another $5,742 added to his earnings.
While he would have liked to stay in the top five, this year's steer wrestling race is the tightest of all of the events and Edge is likely to have the same approach to each steer that he has had his whole career.
"I'm going to try to stay relaxed, get a good start and make solid runs," he said. "That's what has always worked best for me. The rest will just happen."
The native Iowan attended college at Durant's Southeastern Oklahoma State University where he qualified for the College National Finals Rodeo and finished in third place in 2007. That is also where he met his wife, Torrie, who also competes in rodeo events. She qualified for the CNFR in the goat tying.