Curtis Cassidy – Donalda, Alberta
5-time WNFR qualifier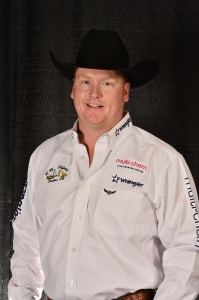 The family name of Cassidy is synonymous with steer wrestling in North America. Curts and his younger brother Cody both learned the tricks of the trade from their father Greg. They made history when all three of them qualified for the Canadian Finals Rodeo in the same year.
The last time that Curtis qualified for the Wrangler NFR, he was competing alongside his brother with Curtis finishing second in the world and Cody in fifth. That was four years ago and while Curtis is the only Cassidy competing at this year's WNFR, he will have all of the family support he needs.
They are known for their horsemanship and Curtis can often be seen as the hazer in the arena. Their great horse "Willy" took Rope Myers, Lee Graves, Jason Miller and Luke Branquinho to championships. Willy is living a life of leisure at their ranch but all of the Cassidy's give him credit for their success.
"He helped us a lot and showed us what to look for in horses," Curtis said. "That's been really important."
A jump start to the summer rodeo season came this year when Curtis won the Reno Rodeo all-around and steer wrestling titles at the Reno (Nev.) Rodeo. It was his first Reno Rodeo Championship.
"Winning Reno was huge," he said. "There are rodeos on your bucket list that you want to win and this has always been one of them."
Prior to competing at the WNFR, Curtis will be making his 18th appearance at the Canadian Finals Rodeo where Cody will also compete.