Dru Melvin – Hebron, Neb.
2-time WNFR qualifier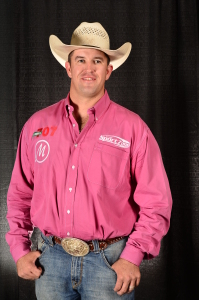 It's been eight years since Dru Melvin competed in the steer wrestling at the Wrangler NFR and the last time he took down a steer in the Thomas and Mack Arena, it was with a badly damaged shoulder.
In fact, he dislocated it nine times during the season including once at the WNFR and spent plenty of time in the Justin Sportsmedicine Team's training room. He had surgery to reconstruct the anterior ligament and recovery was long and brutal. It took five full months of rehab.
In spite of that he finished the 2007 season in 44th place. He has come close to making the trip back to Las Vegas finishing in the top 25 on two other occasions.
Two rodeo's made a huge difference for Melvin this year. His season had a big boost in July as he won $14,394 at the Ponoka (Alberta) Stampede and $8,001 at California Rodeo Salinas. That $22,395 was crucial as without it he would have finished in 24th place for the season.
Coincidentally, he enters this year's WNFR with another shoulder injury – a torn tendon – that will require surgery. He has been doing therapy and will give the shoulder a good test at the Canadian National Finals. It's not likely that this injury will slow the athlete down.
He played football and basketball in high school and got a Bachelor's degree in parks and recreation management with help from rodeo scholarships. He and his wife Brittany welcomed their first child, a son Jaxson, into the family a year ago in September.
Melvin's traveling partners include Bray Armes and Casey Martin. It will be a family reunion for all of them as they gather in Las Vegas this year.