K.C. Jones – Decatur, Texas
9-time WNFR qualifier
1-time RNCFR Champion
4-time RNCFR qualifier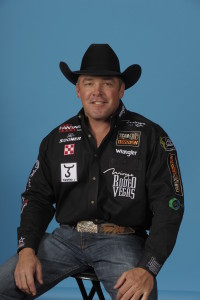 K.C. Jones is one of the busiest steer wrestlers pursuing a gold buckle, especially during the Wrangler National Finals Rodeo (WNFR).
The crazy thing about his schedule isn't the four hours of sleep that he typically gets for 10 nights in Las Vegas, or all of the business needs he attends to, or even the competition, the crazy thing is – he looks forward to it. The enterprising cowboy knows how to take advantage of an opportunity.
This is his ninth qualification for rodeo's Super Bowl, but that's only part of his activities during the WNFR. K.C. is the mastermind behind both Rodeo Vegas and ProFantasy Rodeo. Rodeo Vegas is the PRCA's official WNFR after party and is staged at the Mirage.
ProFantasy Rodeo is the official fantasy game of the PRCA and offers fans the opportunity to pick their own teams and compete for cash and prizes during the WNFR. Over 1.3 million dollars in cash and prizes has been paid out since the game's inception in 2003.
On the mornings that the Thomas and Mack Center is open for contestant's to get some riding time in, K.C. will be there before 6 a.m., making sure his horses are finely tuned. Rodeo Vegas has booth at Cowboy Christmas, so most of his days are spent there. When that closes, he heads to the arena to go to work again.
When the rodeo is over, it's back to the Mirage for the after party where they have live music, prizes for fans and contestants. In fact, they give a saddle away nightly to one of the WNFR contestants in attendance, all orchestrated by K.C.
There is the chance that he is delayed getting to the Mirage because he needs to get to the buckle ceremony at the South Point Hotel and Casino. When he finally gets back to his room, he will spend about an hour on the computer keeping up with his business endeavors and getting ready for the next day.
K.C. obviously loves what he does and is dedicated, not just to steer wrestling, but to rodeo. His wife Gayle is a barrel racer. Not only is she K.C.'s biggest fan, she is also a huge source of support for him in Las Vegas and all year round.