Nick Guy – Sparta, Wis.
4-time WNFR qualifier
1-time RNCFR qualifier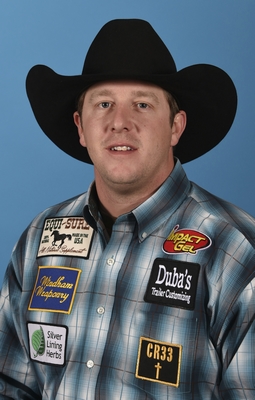 October is not the busiest month of the year for rodeos, so it is often the busiest time for contestants outside of the arena. That is certainly the case for Nick Guy who is headed to his fourth Wrangler National Finals Rodeo.
Nick married his fiancée Erin, made improvements to a place in Colorado that they will call home, and then won the steer wrestling at the Mountain States Circuit Finals to qualify for his first RAM National Circuit Finals Rodeo.
While Nick and Erin now have a Colorado address, Wisconsin will always be home. He grew up there playing hockey. He also was competing and qualified for the National High School Finals Rodeo. After high school he still was playing hockey, but hung up his skates when he was offered a rodeo scholarship to National American University (NAU) in Rapid City, S.D.
Nick qualified for the College National Finals Rodeo all four years he was at NAU. A natural leader, he kept his college rodeo teammates on track and on time. He earned his bachelor's degree in business administration and could easily have a job in an office if he wasn't burning up the rodeo trail.
The first year Nick competed in Las Vegas was in 2010. Then he finished just outside of the top 15 for two years before qualifying again. This is his third consecutive qualification since 2013. He won $33,974 last year placing in three rounds.
This year, he is hoping for more of those successes and would like nothing more than to make several trips to the South Point for the buckle presentations with his new bride by his side.