Riley Duvall – Checotah, Okla.
1–time WNFR qualifier
2–time RNCFR qualifier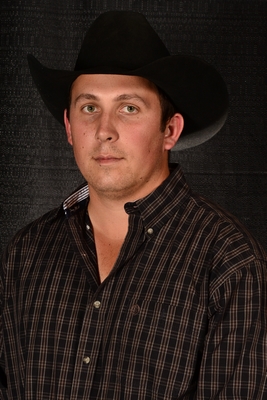 It's been 12 years since the Wrangler National Finals Rodeo (NFR) has had a Duvall listed on the steer wrestling list, far too long for a family that has been one of the most influential in the sport.
Riley Duvall will be competing this year and is the fifth Duvall to qualify. His great-uncle Roy Duvall is a rodeo hero to many of today's competitors with 24 NFR qualifications and three world titles. Riley's dad Sam is a two-time qualifier as is his uncle Spud. His cousin Tom Duvall also made two appearances at the NFR. Spud was the last Duvall to compete in Las Vegas in 2004.
Riley was crowned the National High School Rodeo Association champion steer wrestler twice, in 2008 – 09. He bought his PRCA membership in 2011. While he competed all along, he has also stayed very busy providing horses and hazing for other competitors.
In fact, Riley is very familiar with the set up in the Thomas and Mack Center. He has hazed for contestants there including two-time world champion Hunter Cure. This year will see him coming out of the other side of the timed-event box for the first time. He enters the NFR in 13th place with $61,177 in regular season earnings.
Outside of the arena, Riley is very close with the growing Duvall family. He and his wife Megan welcomed a daughter into the world in November of 2015, Chaney Marie.
It's safe to say that there will be a good representation of the Duvall clan on hands in Las Vegas to watch Riley compete. For his father Sam, who has been there and done that, watching will be rewarding but difficult. Never one to get nervous on his own behalf, Sam is getting used to being a spectator and cheering on his son.