Tyler Waguespack – Gonzales, La.
2-time WNFR qualifier
1-time RNCFR qualifier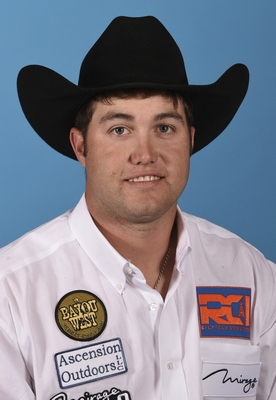 Last year, Tyler Waguespack was admittedly nervous the first time he rode into the Thomas and Mack Center for the Wrangler National Finals Rodeo (NFR).
Those first=time jitters didn't last very long as he got down to business. He won $60,346 in Las Vegas and finished the season in sixth place. Not bad for the then three-year member of the PRCA.
Tyler's climb up the ranks of steer wrestling has been steady. In 2012 he finished the year in 56th place. The next two years he was 36th and 22nd. This year he enters the NFR in third place with $85,458 in regular season earnings.
This year he has been traveling with Ty Erickson and Clayton Hass who have also qualified for the NFR in first and fifth places respectively. Tyler rode "Cadillac" the 2016 steer wrestling horse of the year to a win at the All American ProRodeo Finals in Waco, Texas in October. Hass was hazing for him.
He also won the Spanish Fork (Utah) Fiesta Days on Cadillac and it is likely that both he and Hass will ride the sorrel gelding at the NFR. That, along with being a second-time qualifier will have Tyler riding into this year's NFR with the confidence of a seasoned veteran.
Tyler is a second generation steer wrestler. His father, Michael, has competed and still occasionally hazes for Tyler. His mother, Vickie is a constant source of support as well as his three sisters. They will be part of a Louisiana contingent hoping for a gold buckle. It would be the first time since 1998 when Mike Smith got the gold for a Louisiana resident to win rodeo's most prestigious prize.