Wyatt Smith – Rexburg, Idaho
1-time WNFR qualifier
2009 NIRA steer wrestling and all-around champion
2006 NHSRA steer wrestling and all-around champion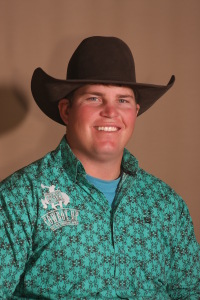 If all of Wyatt Smith's plans come together at his first Wrangler NFR, he will be a force to be reckoned with.
That has been his approach all year and embracing social media opportunities he and traveling partners use Facebook and Twitter where fans can follow the "Recking Crew."
Smith's development into a star steer wrestler came naturally and gradually. His father Lynn has been a pickup man and he and brothers Garrett and Payson grew up on horses. Mother Valorie has always been around to keep the home fires burning and offer words of encouragement.
He joined the PRCA in 2008 while in college at the University of Motana – Western at Dillon. He was also riding saddle bronc horses at that time and made the final round at the College National Finals Rodeo in both events in 2009. He finished his college season with all around and steer wrestling championships.
Not only is Wyatt an avid competitor, he is also a fan and competed in every event in rodeo sometime during his high school and college years. Now though, his focus is steer wrestling and at 5-foot 11-inches" and 220 pounds, steer wrestling is a natural fit.
He started off the 2014 year with the biggest win of his career at the San Antonio Stock Show Rodeo where he earned over $19,000. He won the Days of '47 rodeo and the Evanston (Wyo.) Cowboy Days as well.
"Winning San Antonio was huge for me." Smith said. "It was a big confidence boost and really got me started on the path to accomplishing my goal of getting to the NFR."