Clay Smith – Broken Bow Okla.
2-time WNFR qualifier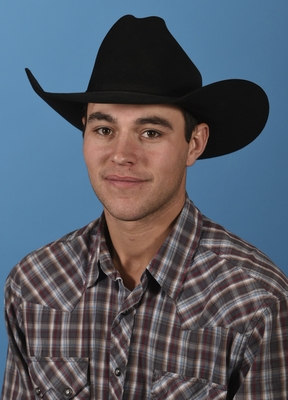 Clay Smith got his first taste of the Wrangler National Finals Rodeo in 2015, placing in four rounds with partner Paul Eaves and finishing 13th in the final PRCA World Standings.
With another year of experience and roping with the same partner, the 25-year-old Broken Bow, Okla., cowboy won't have to worry about any first-time jitters – not that he had any anyway – as he pursues his first gold buckle.
Clay comes in to Las Vegas in second place in the world standings, less than $15,000 behind leader Kaleb Driggers and an amount that can be more than made up in one go-round at the NFR. He won $107,496 during the regular season.
Clay and Paul had a big winter run of rodeos, winning the team roping title at the National Western Stock Show in in Denver, Colo., and the Southwestern Exposition and Livestock Show in Fort Worth, Texas to kick start their season. They also posted wins at Pasadena, Texas; Dodge City, Kan.; Canby, Ore.; Lawton, Okla.; and Bridgeport, Texas.
Also a tie-down roper, Clay won the all-around titles in Bridgeport as well as Pleasant Grove, Utah and the Tri State Fair and Rodeo in Amarillo, Texas. He comes into the NFR fourth in the world all-around standings, less than $20,000 behind leader Junior Nogueira in what will be the closest race for the all-around gold buckle in many years.
Clay, who is named after seven-time world champion Clay O'Brien Cooper, started his career roping with his younger brother, Jake (named for seven-time champ Jake Barnes). When he was 7, he and brother Jake appeared on "The Tonight Show With Jay Leno" to talk about their love of team roping. In 2009, they won the U.S. Team Roping Nationals in Oklahoma City and more than $140,000.