Colby Lovell – Huntsville, Texas
6-time WNFR qualifier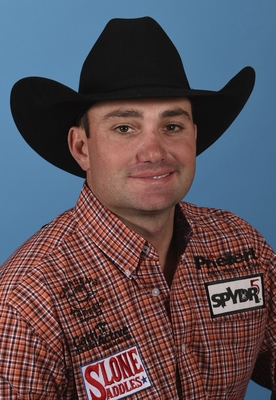 Colby Lovell's very first throw at the Wrangler National Finals Rodeo came in 2010 and was a round winner. He's been a familiar sight at the Thomas & Mack Center ever since, qualifying among the top 15 headers in the world every year except for 2014.
Colby is back again this year and sitting in perhaps the best position he's ever been in to make a run at his first gold buckle.The 29-year-old Madisonville, Texas cowboy comes into the 2016 NFR with $94,475 in regular-season earnings, starting the competition in sixth place.
It has been quite a season for Colby, who has been roping this year with seven-time NFR qualifier Travis Graves. The pair have wins in Canby, Ore.; Phillipsburg, Kan.; Abilene, Kan.; San Juan Capistrano, Calif.; El Paso, Texas; Steamboat Springs, Colo.; and Sikeston, Mo.
Colby also won the Goliad, Texas rodeo with Will Woodfin and a pair of Wrangler Champions Challenge Events (Cody, Wyo., and Scottsdale, Ariz.) with his previous longtime partner Kory Koontz.
In fact, it was Kory that Colby was roping with at last year's NFR. The duo each won over $100,000 and were in contention for world championships until the 10th round. Colby has roped with several different partners throughout his 10 years as a member of the PRCA and had success with each of them.
Colby's Facebook page has one simple mantra in the "about" section: "Work so hard that one day your signature will be called an autograph." Growing up in a rodeo family, Colby started roping as a 4-year-old and won his first buckle when he was 7.
He loves doing anything he can from the back of a horse and can do more than just rope horns on a steer. He qualified for the National High School Rodeo Finals in cutting as well as team roping. He and his wife Kassidy, a barrel racer, just celebrated their fifth anniversary in October. They have a son, Levi, who is 11 years old and a daughter, Jewel who is 3.