Derrick Begay – Seba Dalkai, Ariz.
7-Time WNFR Qualifier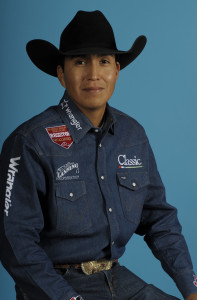 At 32 years old, Derrick Begay is a pro-rodeo veteran, and this year it's the lucky number seven for the amount of Wrangler National Finals qualifications garnered by this roper from a tiny Arizona town called Seba Dalkai.
The 2015 season saw Derrick partnered up for the first time with Clay O'Brien Cooper. And unsurprisingly, the team proved itself steadily throughout the year. After all, Clay O'Brien Cooper has a resume that now includes 29 WNFR qualifications and over $2 million in lifetime earnings. Clay and Derrick's big win came at Rodeo Austin in March.
Though Derrick did not make the WNFR in 2014 and has yet to win a PRCA world title, this could be his year with his healthy ranking going into the finals. He's already won over $94,000 for 2015.
For Derrick, who is from the Navajo Nation, both his family's culture and rodeo roots run deep. His father Victor is the All Indian Rodeo Cowboys Association team roping director. Derrick not only holds a world championship title from the Indian National Finals Rodeo, he was the first Navajo team roper to make it to the storied Thomas & Mack for the WNFR in 2008.
Derrick calls fellow Native American cowboys, Aaron Tsinigine, Erich Rogers and Dustin Bird good friends, and the crew is helping to inspire young Native Americans to shine in the sport of rodeo. Though the four cowboys have all qualified for the WNFR before, they've yet to do it in the same year. There's always next year of course. This year, Derrick will be joining Aaron and Erich in Vegas.