Jake Barnes – Scottsdale, Ariz.
27-Time WNFR Qualifier
7-Time World Champion
3-Time WNFR Average Champion
12 – Time RNCFR Qualifier
4-Time RNCFR Champion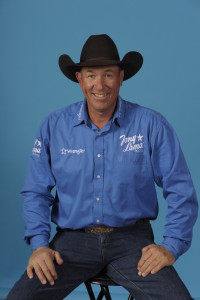 NOVEMBER 30, 2015 – Jake Barnes Injured, Out of WNFR
Jake Barnes could probably rope his way through 10 rounds of the Wrangler National Finals Rodeo in his sleep by now. After all, he has roped over 250 steers in the Thomas and Mack Center.
Born in Texas, Jake has called Arizona home for years. He has made the WNFR a whopping 27 times since joining the PRCA in 1980. That's more than any other team roper in this year's field.
Jake, roping with Clay O'Brien Cooper, has won seven world titles, and each year he sets out to do it again. He has roped at the WNFR with six different partners including the latest, Junior Nogueira. Last year he and Junior Nogueira took second in the WNFR average and finished fifth in the world standings.
Theirs is quite the pairing of a rookie and a veteran. Junior wasn't just any rookie. He became the first Brazilian to qualify for the WNFR in a timed event and that's largely due to Jake's skill and expertise. This year has been good to the duo as well. They won the Cody Stampede Champions Challenge, Ramona Calif. Rodeo and the Chief Joseph Days in Oregon. Jake has won almost $72,000 so far in 2015 and over $2 million in the span of his storied career.
Jake was the first person to be named to the list of "Legends of ProRodeo" by the ProRodeo Hall of Fame in which he was inducted in 1997. Jake married his wife Toni in 1989, and they have five children.
Athleticism must run in the family, whether that means an arena or a basketball court. Jake's son Bo has been a standout for the Arizona State University Sun Devils basketball team. Tuff Barnes is now playing college basketball. He is a senior at Hope International University in Fullerton, Calif. In fact, the opening night of the WNFR, will find the family keeping track of action in the Thomas and Mack as well as the basketball court as Tuff and the team take on La Sierra University in Riverside, Calif.
From throwing big team roping loops to basketball hoops, the Barnes family is always one to watch for.