Kolton Schmidt – Barrhead, Alberta
1-time WNFR qualifier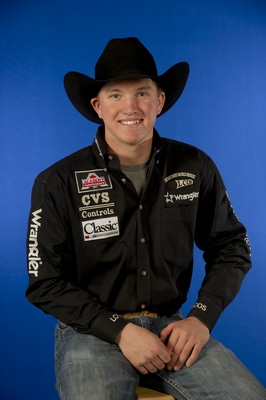 Alberta might be best known for producing bronc riders and steer wrestlers, but Kolton Schmidt is working hard to change that.
The 22-year-old from Barrhead, Alberta will be making his Wrangler National Finals Rodeo debut this year after a sterling regular season that including five outright wins and one co-championship. He comes in sitting fourth in the world standings with $96,147 won during the regular season – a total that almost doubles his career earnings since joining the PRCA in 2013.
Being a trend-setter is not a new experience for Kolton. In 2011, at age 17, he was the youngest qualifier at the Canadian Finals Rodeo in Edmonton. He not only qualified, but won the average with then-partner Tyrel Flewelling. He's qualified for the Canadian Finals every year since turning pro.
While attending college last year at Southeastern Oklahoma State University, Kolton qualified for the College National Finals Rodeo, and won the championship there roping with Sawyer Barham from Coffeyville Community College. He also earned $24,514 on the PRCA circuit, placing him 43rd in the final world standings.
Roping the majority of this season with Shay Carroll, Kolton won the Alberta Stampede in Wainwright, the Laramie (Wyo.) Jubilee Days, the Redding (Calif.) Rodeo Champions Challenge, and the Horse Heaven Round-up in Kennewick, Wash. They were also co-champions of the Sundre (Alberta) Pro Rodeo. Kolton also won the Pueblo, Colorado Wrangler Champions Challenge heading for Dakota Kirchenschlager for another lucrative payoff during the season.
Kolton spent much of the regular season atop the world standings. His horse Tuffy's Badger Chex, which he calls Badger, was selected as the AQHA Team Roping Heading Horse of the Year for 2016.
An amateur hockey player in his youth, Kolton comes from a rodeo family. His father, Ronald, was the Canadian team roping (heeling) champion in 2000. His mother, Elaine, and younger siblings Levi and Taylor also compete in rodeo as does his cousin, Kagen.