Levi Simpson – Claresholm, Alberta
1-time WNFR qualifier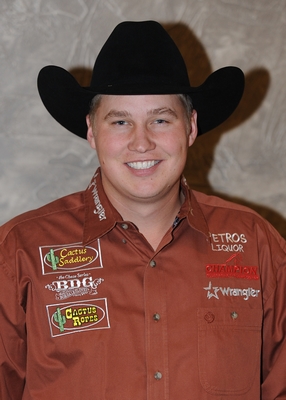 There is little doubt that Levi Simpson is one of the best headers in Canada. He has qualified for the Canadian Finals Rodeo eight times and won their championship in 2011 and 2014.
This year, he has proved that he is among the best in the world with his first Wrangler National Finals Rodeo (NFR) qualification. And roping with his partner Jeremy Buhler who lives in Arrowwood, Alberta, they are the first all-Canadian team ropers to qualify. Levi enters the 2016 NFR in 14th place with $63,133 in regular season earnings.
Success in Canada runs in the family. Levi's older brother Chase, who is also a team roper, won the Canadian title in 2010. Roping is a family affair for the Simpsons that extends to their father and uncles.
It's no surprise that Levi started roping when he was a youngster and that he is fulfilling a childhood dream of competing at the NFR. The reality of that dream might not set in until he rides into the Thomas and Mack Center to compete on Dec. 1.
Being on the bubble for a qualification is nerve wracking to say the least, and the fact that Levi qualified didn't set in for several days after the official world standings came out. Qualifying was not just a team effort for Levi and Jeremy, it was a family affair. Levi's parents helped with driving duties while his wife Rebecca kept things under control at home. They also welcomed a new baby girl into their lives making 2016 the most eventful year of Levi's 25-year life.
The Canadian flags will be flying for the first all-Canadian team ropers this year and Levi hopes that it will motivate his fellow countrymen who have the same dream to make it come true.