Nick Sartain – Dover, Okla.
6-Time WNFR Qualifier
1-Time World Champion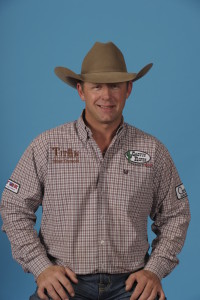 It's a good thing that team roper Nick Sartain grew up in the commonly proclaimed horse show capital of the world, the state of Oklahoma because that gave him a background to be one of the most successful team roping headers in the world.
Nick's family is heavily involved in the horse show world. His grandmother, Mary, was a pioneer in the role of women horse judges, and his family has continued to show halter horses in the American Paint Horse and American Quarter Horse associations.
But for Nick, competition where a winner is determined against a clock rather than a judge was more appealing, and so he took up roping instead of showing. As heperfected his roping skills he attended Northwest Oklahoma State University and made the College National Finals Rodeo.
He was the 2000 PRCA Rookie of the Year and made his first Wrangler National Finals Rodeo (WNFR) in 2006 with his mentor Shannon Frascht. The next time Nick qualified for the WNFR in 2009, he made a clean sweep of the world title and the average title wins roping with Kollin VonAhn.
This year is Nick's sixth trip to Las Vegas, and he's roping with longtime partner Rich Skelton. The team has been to the WNFR together the last two years and will use that familiarity to heat up the competition. One of Nick's biggest wins this year came from the Pueblo Colorado Champions Challenge, but he and Rich have come in first in Utah, Texas and South Dakota too throughout the season.
This year, Nick has already won over $74,000, but his lifetime earnings top over $1 million. It's all come from talent, dedication and horsemanship that started when he was a youngster.
Nick has a veteran's experience on his own rodeo resume, but having an 8-time world champion roping behind him who is also known for his horsemanship gives him a world of confidence going into the WNFR.