Trevor Brazile – Decatur, Texas
22-Time World Champion
2010 World Champion Header
12-Time WNFR Qualifier in Heading
48-Time WNFR Total qualifications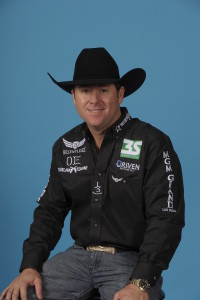 There is a reason that Trevor Brazile is known as the "king of the cowboys." He's pretty much the Garth Brooks or George Strait of rodeo, with almost $6 million in total lifetime earnings as he heads into the 2015 Wrangler National Finals Rodeo.
Of his many All-Around timed-event talents, team roping has been a staple event for Trevor through the years.
His rodeo accomplishments read like a novel.
This year, he again teamed up with Patrick Smith, and has taken home rodeo wins in Texas, Oregon and Colorado, not to mention his All-Around wins a mile long that span from Texas to Montana, California to Missouri. He has won over $92,000 in the team roping. In fact, that's more than he has won in tie-down and steer roping for 2015.
Trevor holds the record for world championships won, and he will no doubt be aiming to add to the list come December with the prize money stakes higher than ever before.
Despite all that stands to be won in Vegas, Trevor would probably tell you he's already received the best prize possible for 2015, and that's when he and wife Shada welcomed their newest addition, baby girl Swayzi, to the family in September. Swayzi is the third child for the couple. They have a son, Treston who will be turning 8, and daughter Style, who is 5.
The family will be cheering loud for the "king," who they just call "dad," at the Thomas & Mack Center.