Turtle Powell – Stephenville, Texas
Team Roping – Heading
9-Time WNFR Qualifier
2011 World Champion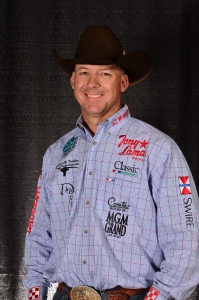 Except for Jake Barnes, Turtle Powell gets distinction as the veteran header at this year's Wrangler NFR. Now in his 20th year as a pro, the 41-year-old west Texas native is young in spirit. Also keeping him plenty youthful are the 3-year-old son and 11-month-old daughter he's raising with his wife, 10-timeWNFR barrel racer Molly Powell.
Powell has an easy smile and a bachelor's degree, and he had a tendency to make the WNFR once every few years – until starting his streak of five straight qualifications in 2010. Powell's 2011 season may have played a big role in his increased success in recent years. That's when he and Wyoming's Jhett Johnson took the WNFR by storm. Powell rose from 13th place in the standings to the gold-buckle position courtesy of a $125,625 payday in Las Vegas. He still holds that earnings record.
This is his first season roping with 23-year-old Dakota Kirchenschlager and it has been a good one – the pair won the first big rodeo of the year in Odessa, Texas, and went on to count victories in Guymon, Okla., and Pecos, Texas, among other places. Kirchenschlager is young enough to take risks with enthusiasm, and has the experience of one prior WNFR under his belt.
Last year, Powell turned all 10 steers at the WNFR with only one broken barrier. In fact, he's made very few mistakes in that arena since winning the gold buckle. If his new partner can rope as consistently, the leaders need to look over their shoulders. In case anyone noticed, Powell is once again entering the Finals in the lucky 13th spot, from which he's handed out a beating before.