Cesar de la Cruz – Tucson, Arizona
Team Roping – Heeling
9-Time WNFR Qualifier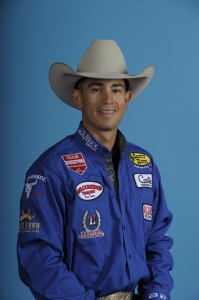 Few team ropers have been as popular with fans for a decade as Cesar de la Cruz.
The cowboy from Arizona didn't let cutting his thumb off at 12 years old hamper his dreams. Instead, he kept roping and has now heeled his way to more than a million bucks and nine straight Wrangler NFRs – all with Arizona partners.
Heeling for his old friend Colter Todd, also of Tucson, de la Cruz made his first three WNFR appearances. Then, for five years he enjoyed a great run with Navajo header Derrick Begay.
As the 2014 season kicked off, de la Cruz, 31, was paired with Brock Hanson. Later he got together with Arizona upstart Tom Richards, and the pair both squeaked into the 15th position in the world standings.
De la Cruz credits his uncle, four-time WNFR qualifier George Aros, for the right mentorship. He and Aros come from a long line of tough desert cowboys, and de la Cruz actually learned to rope a plethora of animals before setting his sights on steers.
"When I was real young, Steve Northcott put out a video called "It Takes Two," where he would rope a goat, a donkey and then a steer," says de la Cruz. "That's how I learned how to rope."