Dakota Kirchenschlager – Morgan Mill, Texas
3-time WNFR qualifier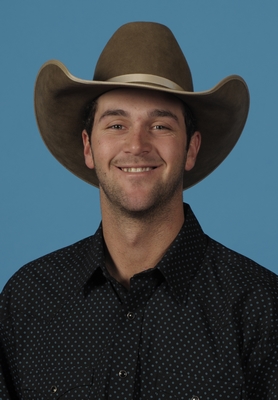 This has certainly been a year of rodeo ups and downs for Dakota Kirchenschlager.
He had won some money in the winter and spring with various partners, but not enough to be in the standings.
He didn't even enter Nevada's Reno Rodeo, the traditional start of the summer run. But he did enter over the Fourth-of-July with Tyler Wade. That also was filled with disappointment as they kept paying entry fees and spending money traveling and were losing money.
They talked about going home, but were entered in the Central Wyoming Fair in Casper. Things clicked and they won nearly $10,000 each. Things were looking up.
They entered more rodeos and soon it was time for another Wyoming rodeo, Cheyenne Frontier Days, a rodeo that Dakota, who was born and raised in Colorado, had grown up attending. He got his PRCA card in 2011 and entered Cheyenne and hasn't missed one since.
He and Tyler won the first round there and another $6,338. They were solid in the second round and leading coming into the finals. On Sunday, July 31, they placed second in the final round and won the "Daddy of 'em All." Dakota jumped up to ninth in the world standings with $48,321 — $17,261 of that earned in Cheyenne.
Now he enters his third Wrangler National Finals Rodeo (NFR) in 10th place with $73,102 in regular season earnings. Dakota has some adjusting to do before he ropes his first one in the Thomas and Mack on Dec. 1. On Oct. 13, he had a roping accident while practicing and lost his thumb. He had surgery the next day and less than a week later was swinging a rope.
Having a thumb in the wrong place has happened to many team ropers and Dakota has been getting advice from some of the best. Cesar de la Cruz, lost his thumb roping when he was just 12 years old. He has qualified for the NFR nine times and has been spending lots of time with Dakota.
Dakota's perseverance, love of roping and being a cowboy has touched the hearts of many rodeo fans who are excited to see him back at the NFR.