Kollin VonAhn – Blanchard, Okla.
1-time World Champion
2-time WNFR Average Champion
5-time WNFR qualifier
1-time RNCFR qualifier
1-time NIRA Champion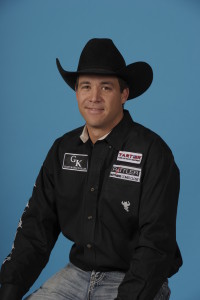 2009 was a good year for the community of Sac City, Iowa, the place where Kollin VonAhn grew up.
That was the year that Kollin's younger brother Ryan won the National Intercollegiate Rodeo Association team roping championship. The town beat their own record for being home to the world's largest popcorn ball. They had one that weighed in at 3,100 pounds, but built a new popcorn ball in 2009 that weighs in at over 5,000 pounds. Most importantly, it was the year that Kollin qualified for his first Wrangler National Finals Rodeo and won the gold buckle in the heeling category.
Kollin is himself a NIRA champion and it was college rodeo that got him to Oklahoma. He had scholarship offers at Southeastern Oklahoma State University and knew the climate would be more favorable to rope, so he headed to Durant and started school.
He joined the PRCA in 2006 and was working towards his goals. He teamed up with Nick Sartain in 2009 and not only did they win the gold buckles, they also won the WNFR average. They roped together for three more years and made the trip to Vegas together again in 2010.
A new roping partner in 2013 would see him heading back to Las Vegas. He and Luke Brown placed in six rounds of the WNFR and won the average. Kollin was the reserve world champion.
This year, Kollin and Luke got to make a big mark through one of the rodeos on their bucket list when they were crowned champions at Cheyenne Frontier Days in Wyoming in July. They each won over $10,000, new buckles and saddles and their names are added to the history books at a legendary rodeo. And they won it less than 24 hours after an record setting 3.4-second run at the Days of '47 Rodeo in Salt Lake City, Utah.
There wasn't much sleep for Kollin during those two days. That's probably good preparation for 10 days in Las Vegas and 10 nights at the WNFR. He now makes his home at Blanchard, Okla., with his wife Angie Meadors who is a WNFR barrel racing qualifier.