Ryan Motes – Weatherford, Texas
4-time WNFR qualifier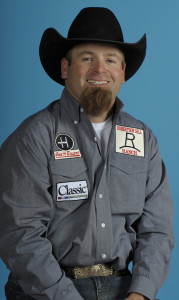 Ryan Motes is a guy that likes to get in the spirit of things – he's the guy that shows up in the Wrangler National Finals Rodeo (WNFR) press room on Tough Enough To Wear Pink Night with his trademark goatee died pink.
That getting into the spirit of things worked as he had round wins each year. The first was with partner Brock Hansen in 2012. The next year, Charly Crawford was the lucky man to watch his partner back in the box sporting pink dye.
Last year, Ryan missed the WNFR finishing the year just out of it at 18th. He had been roping with Aaron Tsinigine who did make the cut. Ryan watched as Aaron won over $85,000 in Las Vegas roping with Clay O'Brien Cooper. That made him more determined than ever to be back at the Thomas and Mack Center competing this year.
He and Aaron stayed hooked for 2015. They had a super Fourth of July winning the Greeley (Colo.) Stampede and the Cody (Wyo.) Stampede. In fact, they duo won more money than any other team ropers over Cowboy Christmas with over $20,000 each.
Ryan's father, David Motes, qualified for the WNFR 22 times and won a world title in 1977 before Ryan was born. His uncle Dennis also got a share of that world championship. Ryan spent his first three years as a member of the PRCA roping with his dad and learning everything he could.
His mother Danny has a love for horses and is involved with cutting horses. Danny also is the one that showed up at Ryan's hotel room in Las Vegas with pink hair dye. Ryan's horse CD Starbucks is a horse that the family was born on the family ranch and that Ryan trained. He was just voted as the 2015 PRCA/AQHA reserve champion heel horse.
Ryan and his wife Courtney put many miles on getting to the WNFR. She has been by his side through the ups and downs of rodeo and with a great horse, a great team roping partner, she can sit back and enjoy the show in December.