Adam Gray – Seymour, Texasa
4-time WNFR qualifier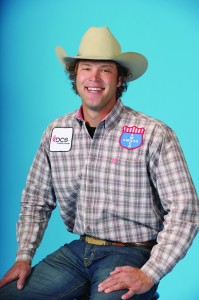 Adam Gray set a goal in 2008 to become the Professional Rodeo Cowboys Association Rookie of the Year in tie-down roping. He fell short of that goal and was chasing a guy that every tie-down roper is chasing today, Tuf Cooper.
That didn't discourage Gray in the least as worked towards a childhood goal of qualifying for the Wrangler NFR. He first achieved that in 2009 and had the whole town of Seymour, Texas, with a population of just over 2,600 cheering for him.
"They'd stay up late at night just to watch the NFR," Gray said. "I got calls, my parents got calls. It was unreal."
Seymour has a lot to be proud of in this talented roper. In 2012 he won the WNFR average with a time of 87.8 seconds on 10 head, moving from 13th to sixth place in the world standings. Gray missed last year's WNFR by a bit finishing the season in 19th place. He won the Wild Bill Hickok Rodeo in Abliene, Kan., in August and was co-champion at the American Royal ProRodeo in Kansas City the end of September.
Only winning two titles and qualifying for the WNFR means he collected a lot of checks along the way for placing. Case in point – he won the first round and was fast enough to qualify for the final round where he placed fifth at the Cheyenne (Wyo.) Frontier Days Rodeo. He finished third in the overall standings there and won a total of $16,495.
Gray qualified for the College National Finals Rodeo in tie-down roping twice for Texas Tech University. While he was there on a rodeo scholarship he also took his education seriously earning a bachelor's degree in civil engineering.
"I didn't know what I wanted to do when I started college but I was pretty good at math and science, so engineering felt like a good way to go," he said. "I picked civil engineering because that was something I could do in a small town."
Gray isn't planning on using his degree anytime soon, but he is a planner and is always thinking ahead. Right now he is thinking about 10 calves to rope and tie in Las Vegas and hoping that his plans come together again at this year's WNFR.