Blane Cox – Cameron, Texas
1-time WNFR qualifier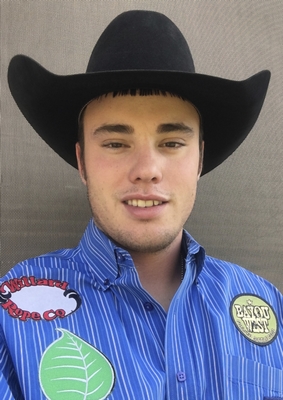 Blane Cox is part of an exclusive fraternity in the tie-down roping at this year's Wrangler National Finals Rodeo.
Of the 15 competitors in the field, four of them qualified for the College National Finals rodeo in Casper, Wyo., representing Hill College at Hillsboro, Texas. Blane was there in 2013, 2014 and 2015. He also competed in steer wrestling in college but is now dedicated to the tie-down roping.
With $70,127 won during the regular season, Blane starts the 2016 NFR in 12th place. The other members of the fraternity are Cory Solomon, Shane Hanchey and Marty Yates. Marty and Blane both competed in Casper in 2014.
Joining the PRCA in 2012 was the first step for Blane to accomplish his childhood dream of qualifying for the NFR. He was competing in college as well. His first full year of competition was in 2015 when he finished 27th and won $47,683. That gave him career earnings of $80,813 which he has nearly doubled this year before the NFR even starts.
Blane has been king of the cowboys in central Texas since he was a youngster, winning titles at every level. A lover of hunting, he was either in the arena roping or looking for game every chance he got.
When he's not competing, Blane is also an equine dentist. His parents, Carl and Lisa, couldn't be any prouder of their only son. His older sister Shayla is also among his biggest fans. They will be on the edge of their seats in the Thomas and Mack Center for 10-nights in December. With the way this cowboy ropes, it may be their first trip to Las Vegas for the NFR, but it isn't likely to be their last.