Caleb Smidt – Bellville, Texas ($89,971)
5-time WNFR qualifier
2015 World Champion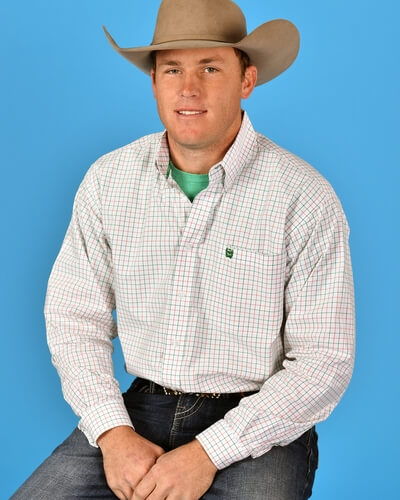 If Caleb Smidt was on "Dancing With the Stars" and was asked to pick a pivotal year in his life, he might just pick 2013.
He bought his PRCA permit in 2012. One year later, he was the all-around and tie-down Rookie of the Year, had qualified for his first Wrangler National Finals Rodeo and married the love of his life.
He missed most of the 2014 season after he broke his leg while practicing steer wrestling at home, then came back with a vengeance in 2015. He qualified for his second NFR in sixth place and left in first. Life outside of the arena was changing as well. His wife, Brenna, was pregnant with the couples first child and due in February.
Caleb was juggling rodeo schedules and making plans to be home every chance he got. On one of those occasions, Brenna gave birth to their son, Cru. Caleb's desire to make a living for his family got him back on the rodeo road and he qualified for his third NFR.
This year he is entering rodeo's championships for the fifth time with $89,971 in regular season earnings. Brenna and Cru have been traveling with him and they added a daughter, Myla, to the family in November.
Much of Caleb's success since 2015 and his gold buckle can be attributed to his equine Partner, Pocketful of Light, aka "Pockets." Pockets has been injured and they are working hard to have him ready to ride at the Thomas and Mack Center in December.
When it comes to advice from a two-legged friend, Caleb always relies on NFR qualifier Justin Maass. Maass lives at Giddings, not too far from Bellville and has a covered arena. Caleb will go there and practice with his former traveling partner. Justin was instrumental in Caleb's first trip to Las Vegas and now Caleb depends on his expertise and friendship.
Caleb has a lot of people pulling for he and his family in Las Vegas. And while another gold buckle is the goal, he remains grateful for every success he has and knows that being able to share it is the biggest blessing.
Presented by: