Clint Cooper – Decatur, Texas
5-time WNFR qualifier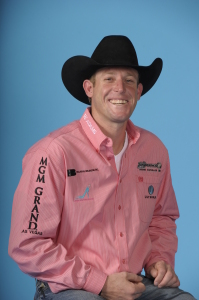 There is no bigger family legacy in the tie-down roping than that of the Coopers starting with eight-time world champion Roy Cooper who followed in the footsteps of his father Tuffy Cooper.
Clint is Roy's oldest son and the first to venture into the very competitive sport of tie-down roping. With four Wrangler NFRs behind him, he is looking forward to the fifth with the enthusiasm of a rookie.
"I love it, love everything about it," he said. "from the competition to the fans. We rodeo all year long striving to get to Vegas. It's a big accomplishment for everyone that makes it. I have a lot of fun and it's exciting for me."
While Cooper's success can be attributed to hard work, dedication and the vast amount of knowledge that he obtained from his father, a good part of the credit goes to a four-legged athlete named "Sweetness."
Sweetness is a three-time Professional Rodeo Cowboys Association AQHA tie-down roping horse of the year. The 20-year-old gelding is co-owned by Cooper and Karen Herbst of Cinterella Resources. Known for his consistency in the roping pen, Sweetness has taken many contestant's to the pay window as one of the top mounts in rodeo.
Competing alongside his younger brothers Clif and Tuf compete at the WNFR has been rewarding, but this year it will be Clint and Tuf rooting for each other as Clif didn't qualify. Clint also has the unwavering support of his wife Amber and sons Casen Dale and Canden Janes who are six and three respectively.