Clint Robinson – Spanish Fork, Utah
5-time WNFR qualifier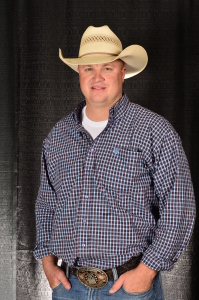 Clint Robinson is an all-around hand, but tie-down roping is his forte.
He also competes in steer wrestling, team roping and steer roping and his success in all of those events depend on horsemanship. That's a big deal to Robinson as he has trained most everything he has ever ridden.
His love and respect for horses came naturally, and with that progression through the rodeo ranks. His father Lance qualified for the Wrangler NFR five times in steer wrestling and once in the team roping. He was the reserve champion of the world in the all-around race in 1987 behind another Utah native Lewis Feild.
Clint competed in high school and then college rodeo before he became a full-fledged Professional Rodeo Cowboys Association member. That was in 2003 when he earned the Resistol Rookie of the Year in the all-around and tie-down roping.
He had the best year of his career the last time he qualified for the WNFR in 2012 where he got round buckles twice and placed four other times. Robinson finished the season in fourth place in both the tie-down roping and all-around race.
After missing last year's WNFR, Robinson was on a mission to make it back. That came in part with horsepower and some good wins at Redding, Calif., Logandale, Nev., Hermiston, Ore., and Strathmore, Alberta.
With his family, including his wife Robin and mother Marla along with his dad supporting him every step of the way, look for this horseman to bring his best to Las Vegas. That includes four legged athletes. The family is heavily involved in racehorse breeding as well and one thing is for certain, Clint will never run out of horses to ride.