Cody Ohl – Hico, Texas
20-time WNFR qualifier
6-time World Champion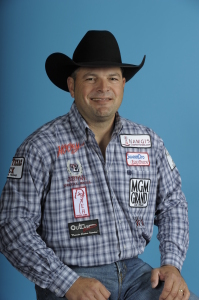 Cody Ohl had to do something this year that he hasn't had to do for several – rodeo hard just to qualify for the Wrangler NFR.
The past few years, he has made it a practice of selecting the rodeos he goes to carefully, having a game plan and making it work. He has qualified for the Wrangler NFR by going to less than 40 rodeos and has been a contender every time.
This year those plans went awry when he sustained broken ribs and a bruised lung that also had a pin hole in it after he got run over by a cow at his ranch. That injury was just before the Reno (Nev.) Rodeo and the lucrative Cowboy Christmas run over the Fourth of July.
He spent four days in the hospital – had a bit of pneumonia – which meant he had a hard time catching his breath after he got home. He had been working out prior to getting hurt so after he could get his wind again he was back at competition at Nampa, Idaho, where to no one's surprise, he won the rodeo and nearly $8,000.
Ohl was back in the mix again, but with so much ground to make up he was on the rodeo trail entering rodeos big and small. It paid off as he is making his 20th appearance in the tie-down roping in the Thomas and Mack Center. Never count him out as he has won 48 rounds in the Thomas and Mack Center and is healthy and ready for more.
A big part of Ohl's success for the past several years has to be credited to "Big Smokin Wonder," the mare that is his main mount that everyone knows as Pearl. The 17-year-old sorrel mare is a two time PRCA AQHA Tie-Down Horse of the year with over $1 million in association earnings.
Pearl is owned by Sid Miller who was elected as Texas Commissioner of Agriculture on Nov. 4th this year.