Marcos Costa – Childress, Texas
2-time WNFR qualifier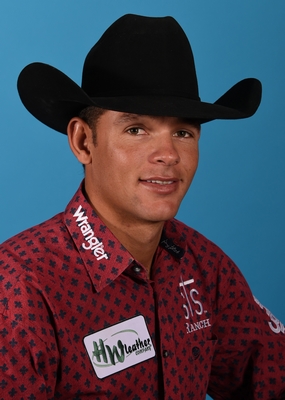 If Marcos Costa wasn't already comfortable competing in the PRCA, the third-year pro certainly came of age in 2016.
The 25-year-old from Parana, Brazil is in the lead for a tie-down roping world title with $125,523 won during the regular season. Marcos, who now lives in Childress, Texas, will start this year's Wrangler National Finals rodeo (NFR) nearly $17,000 ahead of second-place Timber Moore.
This year hasn't been without tribulation. His first NFR qualification last December saw him competing with a knee that was less than stellar. After placing in three rounds, finishing fifth in the average and earning $63,731 in the Thomas and Mack Center, he had his fifth knee surgery on his right knee Dec. 17, just five days after the 10th performance.
He was back in action at the National Western Stock Show Rodeo in Denver less than a month later. He roped and tied a calf there in 7.5 seconds on Jan. 15, good for a second place finish in the first round and $3,484.
Marcos is known for his horsemanship and moved to Sao Paulo, Brazil, to work as a horse trainer when he was just 14 years old. While there, he attended a roping clinic hosted by 2008 World Champion Stran Smith. In 2014, he made the move from Brazil to Texas where he lives in a guest house on Smith's ranch.
His horsemanship and ability to train tie-down roping horses is gaining recognition here. Last year he rode a horse "Sweet as Time" that was voted the PRCA/AQHA tie-down roping horse of the year. This year, his horse "Sort of Popular" that he owns with Fred Werneck was the reserve champion. That horse helped fellow Brazilian, Junior Nogueira, win enough in the tie-down roping to move into the lead of the all-around standings.