Monty Lewis – Hereford, Texas
1-time World Champion
6-time WNFR qualifier
1-time WNFR average champion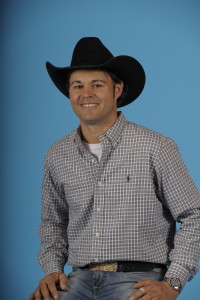 Monty Lewis has had a sporadic career in the PRCA, but it has been very successful none the less.
Monty is headed to his sixth Wrangler National Finals Rodeo (WNFR) since joining the PRCA in 2001. He enters in 10th place with $82,903 in regular season earnings. He had a great winter that kicked off Feb. 4 with a win at the Wrangler Champions Challenge in Rapid City, S.D.
His success in the arena has largely been due to horsepower. 2004 wasn't just the year he won his first gold buckle, he also won the average at the WNFR and that was mostly because of a sorrel gelding, IR Still Dry, that Monty called Ned. Ned was also selected the PRCA/AQHA Tie-down Roping Horse of the Year.
Ned filtered down through the family. Marty's dad, Wade, started riding him but didn't get along with him, so Marty got him. He practiced on him a lot and brought him around slowly. Now he has a horse named Squirrel that they have put through similar paces. A torn tendon put Squirrel in the rehab pen for most of the 2014 season, so Monty's plans for the year changed.
Instead of going to the rodeo arena, he went to the practice pen. He said he probably practiced more last year than he had since he was a teenager. At 33, that just made him hungry.
Squirrel has made all the difference in the world for Monty this year. He describes the horse as a high-end sports car that came in pieces and needed to be put together. That took patience and time but was worth it to have a top-level competition horse. Squirrel is now 10 and just keeps improving.
Monty figured he had the WNFR made at the end of a lucrative July, so he elected to sit out the Northwest rodeos and go home. That may be the difference at the WNFR as he and Squirrel will both be rested and fresh. And Lewis is hungry for another world title.