Riley Pruitt – Gering, Neb.
1-time WNFR qualifier
1-time RNCFR qualifier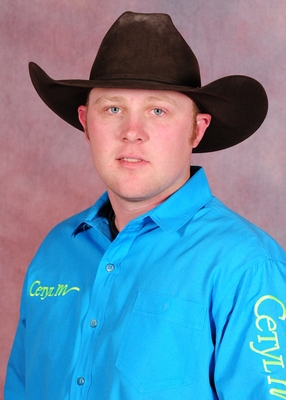 This has been an eventful year for Riley Pruitt. On the first of October, he realized a goal of qualifying for his first Wrangler National Finals Rodeo (NFR). Then on the 15th, he married his fiancée Jenna Waggoner and two days later celebrated his 25th birthday.
After Riley had success at the winter rodeos, Jenna knew that he would be busy all summer on the rodeo trail. She gave him one responsibility that he approached with the same enthusiasm that he approaches roping with – pick out the cake. It was a tough decision for the Nebraska cowboy as he had to narrow it down to just one flavor.
Riley is the son of 1990 world champion tie-down roper Troy Pruitt. His mother is a talented barrel racer and all of them train horses. In fact, Riley always has at least two horses with him, and has two more that his dad keeps tuned up ready for the next road trip.
That horsemanship and knowledge imparted from father to son have contributed to Riley's success. He was born one year after Troy won the world title and started going to rodeos with his parents immediately. They would occasionally leave him in a rodeo secretary's office while they competed. As he got older, he was running around with other rodeo kids, roping anything that moved and loving life.
Those experiences have him as a seasoned veteran who has qualified for this year's NFR in ninth place with $75,457 won during the regular season. The family is making plans to be there to watch him. Troy will give him advice as he needs it and Riley will depend on his knowledge from competing in the Thomas and Mack Center on eight occasions. And, the community of Gering, home of world champion steer wrestler Dean Gorsuch couldn't be any happier to be represented in Las Vegas in the tie-down roping by their native son Riley.