Ryan Jarrett – Comanche, Okla.
2005 World Champion All-Around Cowboy
9-time WNFR qualifier in tie-down roping
1-time WNFR qualifier in steer wrestling
3-time RNCFR qualifier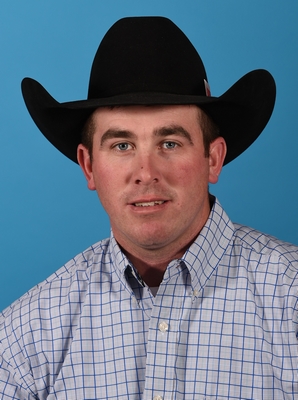 When Ryan Jarrett rides into the Thomas and Mack Center on Dec. 1, he will be celebrating.
It is his ninth qualification for the Wrangler National Finals Rodeo (NFR) in the tie-down roping, but more importantly, it will be he and wife Shy-Ann's sixth wedding anniversary. The couple was married on Dec. 1, 2010 in Las Vegas, one night before the start of that year's NFR.
Rodeo is what brought the man from Georgia and the girl from Oklahoma together. Ryan joined the PRCA in 2004. The next year he qualified for the NFR in the tie-down roping as well as the steer wrestling. He became the second man in the history of the all-around world championship from east of the Mississippi to win that title.
Ryan has nearly been a fixture in Las Vegas in the tie-down roping since that time. He came up short in 2007 after having knee surgery and missing four months of competition. Then he finished in 16th in 2008 and 18th in 2014.
While he only qualified in the steer wrestling in 2005, he has always been an all-around contender and still enters that event at selected rodeos. In fact he won the all-around title at four rodeos this year and is starts the NFR ninth in the world.
He won $73,400 on the way to his ninth qualification in the tie-down roping where he starts in 10th place. Always cool under pressure he is closing in on $2 million in career earnings.
Growing up on a dairy in Georgia taught Ryan the value of hard work. His family didn't compete in rodeos, but sold some dairy cattle to a family in Texas that did. He spent some time with them in the summers and set the path for his future. That path has not only earned him a living and lots of titles; he was inducted into the National Cowboy & Western Heritage Museum's Rodeo Hall of Fame in 2010.
Ryan and Shy-Ann make their home in Comanche, Okla. She is a barrel racer and occasionally gets to enter with Ryan. They depend on her parent's to take care of things when they are both gone, so leaving at the same time is a rare occurrence.
Everyone makes sacrifices to support Ryan for the NFR. And, with a wedding anniversary, it's worth the effort and gives the whole family an opportunity to celebrate together.