Ryan Jarrett – Comanche, Okla. ($77,552)
12-time WNFR qualifier
2005 All-Around World Champion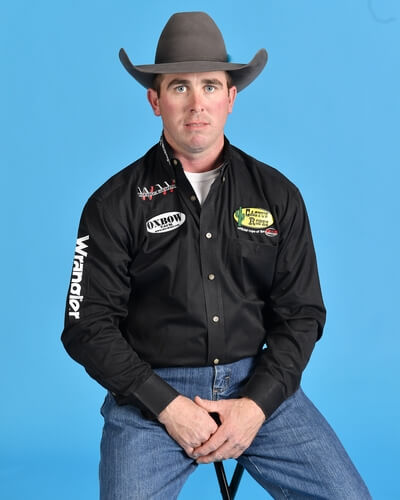 It took an 11th hour push to punch Ryan Jarrett's ticket to the 2018 edition of the Wrangler National Finals Rodeo.
With 14 years of experience in the PRCA, Jarrett has been at the top and the bottom to know what to expect in any situation. This year, his name wasn't in the standings until the middle of July.
With encouragement from his wife, Shy-Anne, who competes in the barrel racing, Ryan kept pushing hoping that they would celebrate their eighth anniversary in Las Vegas. He had dropped to 18th, then won the Ellensburg (Washington) Rodeo over Labor Day.
With just three weeks left in the season, that was critical. He was back up to 15th. He won the last rodeo of the season that he competed in, the Andy Devine Days Rodeo in Kingman, Arizona. That got him a $902 check and put him $456 ahead of Blane Cox who was in 16th.
He now has 11 NFR qualifications in tie-down roping and one in steer wrestling to his credit. The one year he competed in both event, 2005, he earned the world champion all-around cowboy buckle.
Last year's NFR was not as good as he had hoped or as bad as it could have been. He won $48,923 in Las Vegas while riding a seven-year-old gelding that he calls Snoopy. Snoopy has been instrumental in his qualification this year. Ryan has ridden him for all but five runs this year and will be riding him in Las Vegas again as well.
Ryan and Shy-Anne have a lot to celebrate. Along with his NFR qualification and their anniversary, they are expecting their first child this spring. Every time he backs his horse in the box in the Thomas and Mack Center in December, he'll be thinking of the diapers he can buy and the future he can provide for his growing family.
Presented by: