Sterling Smith – Stephenville, Texas
2-time WNFR qualifier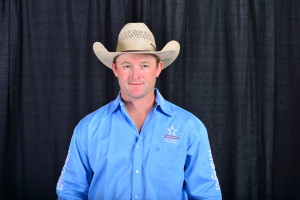 If Sterling Smith wanted to spend time with his family, he had to rope. It's a good thing that he not only loves it, but he's good at it as well.
Sterling is the son of two world champion ropers. His dad, Brad, won the world title in the PRCA in the team roping in 1978 as a header. His mom, Barrie, who is a sister to NFR qualifier Bret Beech, won the Women's Professional Rodeo Association world title in the same category in 2010. His sister Shelby ropes and runs barrels.
The family has their own construction company, ranches in Stephenville, Texas, and Beulah, Colo. And, in their spare time, they rope. That's been good for Sterling who is headed to his second Wrangler National Finals Rodeo (WNFR).
He joined the Professional Rodeo Cowboys Association in 2007 and was the Resistol Rookie of the Year in tie-down roping. That year, he also won the coveted buckle at California Rodeo Salinas.
He qualified for his first WNFR in 2013, placed in three rounds and finished the season in 12th place. Last year he fell short at 37th.
This year he started off with another win from a legendary rodeo. Sterling earned the tie-down roping title at the 120th Southwestern Exposition and Livestock Show in Fort Worth, Texas. That added $16,909 to his earnings and gave him a great opportunity to get back to the WNFR.
While Sterling's roots go back to Arizona, he and the family all live around Stephenville, Texas now. That's been a good thing for him as well in 2015 s won three more rodeos in his home state and he has an $18,000 lead in the tie-down roping in the Texas Circuit.
Sterling helped Vernon (Texas) College win the men's team title in 2003 at the College National Finals Rodeo (CNFR). He then transferred to Tarleton State University where he got his bachelor's degree in business management.
His wife, Tibba is an accomplished roper and competitor as well. She qualified for the CNFR in breakaway roping four times, three in goat tying and once in the barrel racing. The couple has a nine-year-old son, who just like his dad is spending plenty of time in the practice pen with his family and has started his own roping career.