Timber Moore – Aubrey, Texas
5-time WNFR qualifier
1-time RNCFR qualifier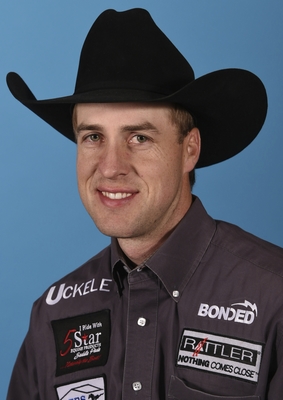 Timber Moore entered the 2015 Wrangler National Finals Rodeo (NFR) in second place, the same place he enters this year.
However, the Aubrey, Texas, cowboy is hoping that he leaves in a much better position this year. He won $36,654 in Las Vegas and dropped to 10th place in the world standings with earnings of $149,281 for the year.
Timber's success the in 2015 and again this year has largely come aboard "MFO Harvey, a 12-year-old sorrel gelding that he calls Colonel. Fellow tie-down ropers selected Colonel as the reserve AQHA/PRCA tie-down roping horse of the year last year. This year he received the top honors.
Rodeo is in Timber's blood. Both of his parents competed and his maternal grandfather was a stock contractor in Texas. His dad, Gordie Moore was from Canada and they still have family there. That gives him some extra incentive to compete at rodeos north of the border.
Gordie moved to Texas in before Timber was born to start a cutting horse and ranching operation. Timber started roping when he was a youngster and went on to qualify for the National High School Rodeo Finals and the College National Finals Rodeo.
His first NFR qualification came in 2011. Then in 2012 he injured his knee playing basketball at home and had to have surgery. He missed the whole season. He hasn't missed an NFR since then.
Over six feet tall, basketball would seem a natural pastime for Timber. In fact, it is for his family. His wife Valery played college basketball for Texas Women's University. The couple has been married nine years and has a daughter, Vaughn, who is four. They travel together whenever schedules allow. Those schedules will certainly allow a family trip to Las Vegas this December.