Trevor Brazile – Decatur, Texas
22-time World Champion
3-time World Champion tie-down roper
16-time WNFR qualifier in tie-down roping
48-time WNFR total qualifications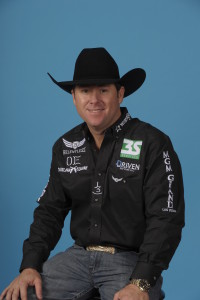 There's not much that can be said about Trevor Brazile and his roping career that hasn't already been said.
While he has learned how to be a champion, he's still more comfortable in a saddle with a rope than in front of bright lights and cameras. That's not to say that with all of his success that he hides from cameras and shies away from reporters. Quite the opposite. He finds time in his schedule to accommodate them.
"I always felt like that was part of the job," Trevor said. "It's important for me to give back and making time for others is a way to do that."
In fact, just after he won his eighth gold buckle in the steer roping, Trevor found time to go to an elementary school in his home town to meet a student who had done a class project all about Trevor. Because of that young man's interest, Trevor addressed the whole 4th grade class and talked to them about the privilege of living in the United States and that we owe a debt of gratitude to all of our service men and women.
Trevor's own journey to becoming the most successful cowboy in the history of rodeo began at about that same age. His parents wanted him to become a well-rounded athlete, so he took gymnastics, wrestling and martial arts. In high school he was a guard for the basketball team and he also ran track.
His ability in the arena is a testament to that early training. His all-around attitude and willingness to give back outside of the arena is a testament to the man that he is. He will have plenty of opportunity to showcase both at this year's WNFR. And his biggest fans, wife, Shada, son, Treston, and daughters, Style and Swayze will be supporting him in every quest he undertakes.