Tuf Cooper – Decatur, Texas
3-time World Champion
8-time WNFR qualifier
2-time RNCFR qualifier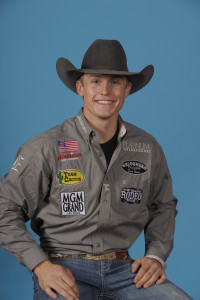 There is no kind of pressure that can be put on Tuf Cooper that is like the pressure he puts on himself.
Backing into the roping box at the Wrangler National Finals Rodeo (WNFR) for the first time as an 18-year-old, competing on rodeo's biggest stage, Tuf never lost his cool. In fact, it was the cool factor that garnered him legions of fans.
He joined the PRCA in 2008 and has qualified for the WNFR every year since joining. He became the youngest member to reach $1 million in earnings at 23 and is well on his way to $2 million.
Coming from the legendary Cooper family, Tuf had great opportunities to become the champion that he is. However, with great opportunities comes great responsibility. He is the son of eight-time world champion Roy Cooper. Instead of resting on his father's laurels, Tuf set out to be better.
His quest started when he was old enough to pick up a rope. He had opportunity to ride great horses and learn from the best. He took it all very seriously and knew that he would have to work hard and work smart to be considered a serious competitor.
That work ethic has paid off to the tune of three gold buckles and a significant head start going into the Thomas and Mack Center this year. Tuf leads the tie-down roping field by $17,000 and is more determined than ever to remain in that spot.
He is constantly looking for ways to get better in and out of the arena and his fans recognize that. Social media has given Tuf the opportunity to interact with those fans and he has embraced that. He has over 150,000 followers on Facebook, Instagram and Twitter. They will have plenty to talk about as he pursues his fourth world title.