Kassidy Dennison – Tohatchi, N.M.
First-time WNFR qualifier
NHSRA Breakaway Champion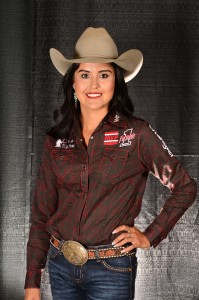 It's doubtful that any barrel racer at this year's Wrangler NFR will have more passionate fans than first-timer Kassidy Dennison. She's proud to have become the first Navajo cowgirl to qualify for the Wrangler NFR in her third attempt aboard 9-year-old Sierra Hall Of Fame ("Eagle").
The half-Thoroughbred Eagle is ready to shine for the darling of the Navajo Nation in Las Vegas, where Dennison has already competed on the national stage several times at the Indian National Finals Rodeo, held each November at the South Point Hotel and Casino Dennison is an eight-time INFR champion in roping and barrel racing and a former national high school champion in roping.
The striking beauty from a town with a population of 800 has taken the largest Indian reservation in America with her on this journey via social media. She posts updates and photos on Twitter, Instagram, Facebook and her web site with the hashtag FlyLikeAnEagle, and is inspiring young Indian cowgirls across the nation.
"I'm interested in showing our young kids to have a dream and to do something big," she said. "It's like Derrick Begay – he gave people out here on our reservation motivation."
Begay, a talented header, became the first Navajo in any event to make it to rodeo's Super Bowl in 2008. More and more Indian roping talent has followed, including fellow Navajo Erich Rogers in 2011, then Dustin Bird (a member of Montana's Blackfeet tribe) in 2012 and now Aaron Tsinigine, also Navajo, in 2014.