2022 CPRA Committee of the Year Awards Decided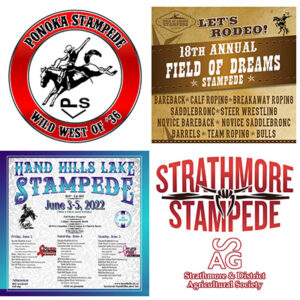 Fans, volunteers, sponsors and competitors all play a role in the success of Canadian Professional Rodeo events across Western Canada. But is the CPRA athletes, at the end of each regular season, who have the opportunity to put their votes forward in an effort to highlight select committees each year. These contestants travel the miles to help make each rodeo exciting and entertaining, and in turn, recognize some of the unique qualities that set some rodeos apart from others.
Committee of the year awards are sponsored by Canadian Cowboy Country magazine.
The Ground Awards are presented by the Ladies Professional Barrel Racers.
Comments like those below are typical when it comes to choosing the winners in the Large, Medium and Small Committee of the Year categories:
Ponoka Stampede – 2022 CPRA Committee of the Year – Large category (Purse $8,000 or over per major event)
* Ponoka Stampede worked hard to have a great rodeo once again. Weather hurt (the) conditions and (having to work) with the other events happening. But it didn't stop them from making it the best it could be. Ponoka promotes the rodeo and builds excitement for both spectators and competitors.
* They always step up and make their rodeo better.
* Run the way an event that size should be run for the contestants as well as the spectators attending the event. Organized and portrays a very professional atmosphere.
Field of Dreams Stampede, La Crete, AB – 2022 CPRA Committee of the Year – Medium category (Purse $3,000 to $7,999 per major event).
* Treatment of contestants (at La Crete, AB) is second to none, from delivering water for the horses to putting on an excellent spread in contestant hospitality, to businesses going above and beyond to help contestants while in town (very accommodating when trailer needed repair and needed new tire; fuel special for contestants). Excellent rodeo.
* Always full stands and a great facility for both competitor and fan.
* Always top notch entertainment and the food and hospitality is great! Excellent atmosphere for fans and contestants alike.
Hand Hills Lake Stampede – 2022 CPRA Committee of the Year – Small category (Purse $2,999 and under per major event)
* Hand Hills offers one of the best rodeos and in a small community they put on a great rodeo for spectators and competitors.
* Great committee, people get involved with contestants, and being just a small rodeo it felt great to ride there.
* Just an awesome rodeo to attend.
* The pie is incredible!
The ground conditions at a given event are key in making it possible for athletes (two and four-legged) to perform to the best of their ability in both the timed and rough stock events.
Winner of the Best Ground of the Year award is Field of Dreams Stampede (La Crete, AB).
And the Most Improved Ground award goes to the Strathmore Stampede.
Congratulations to the 2022 award winners, and to all CPRA committees. We appreciate each and every one of you! And thank you to our award sponsors: Canadian Cowboy Country and Ladies Professional Barrel Racers.
About the Canadian Professional Rodeo Association
The Canadian Professional Rodeo Association (CPRA) with headquarters in Airdrie, Alberta is the official sanctioning body for Professional Rodeo in Canada. The CPRA approves 55 events annually with a total payout exceeding $5.7 million. The organization oversees the SMS Equipment Pro Tour Finals each Labour Day weekend in Armstrong, BC, holds their premiere event – the Canadian Finals Rodeo (CFR) – at Westerner Park in Red Deer, AB Nov 2-6 and endorses the Maple Leaf Circuit Finals as part of Canadian Western Agribition Nov 30-Dec 3 in Regina, SK. Follow the CPRA on Twitter and Instagram @prorodeocanada, 'Like' Canadian Professional Rodeo Association on Facebook or online at RodeoCanada.com.