Celebrate National Catfish Day with the U.S. Catfish Recipe of the Month: Popcorn Catfish with Awesome Sauce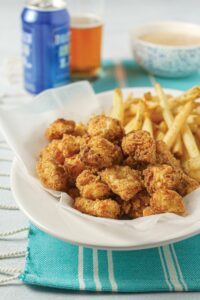 Ingredients
• 4 U.S. Farm-Raised Catfish fillets (1 pound), cut into bite-size pieces
• Vegetable oil for frying
• ½ cup dill pickle juice
• 2 cups flour
• 4 teaspoons onion powder
• 4 teaspoons garlic powder
• 2 teaspoons salt
• 2 teaspoons pepper
• 2 eggs
• ½ cup milk
Awesome Sauce:
• 1 cup mayonnaise
• ¼ cup ketchup
• 1 tablespoon Worcestershire sauce
• 1 teaspoon hot sauce
• ½ teaspoon garlic powder
• 1 tablespoon fresh parsley, finely chopped
Instructions
HEAT oil in a deep fryer to 350° F. PLACE pickle juice and catfish in a bowl. TOSS to coat; then let marinate for 20 minutes. In another bowl, COMBINE flour, onion powder, garlic powder, salt and pepper. In separate bowl, WHISK the egg and milk together. DREDGE the catfish pieces in the egg, then the flour mixture. DEEP-FRY the catfish for 5 minutes or until golden brown. DRAIN any excess oil on paper towel. MIX all sauce ingredients and SERVE catfish with dipping sauce.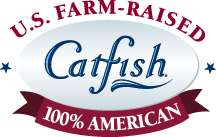 We would love to hear your thoughts after trying this one! I always check the label to make sure it's U.S. Farm-Raised Catfish and so should you. Enjoy 100% All-American!