Kate Harrison Blazing Trails in Debut of PBR Team Series
By: Andrew Giangola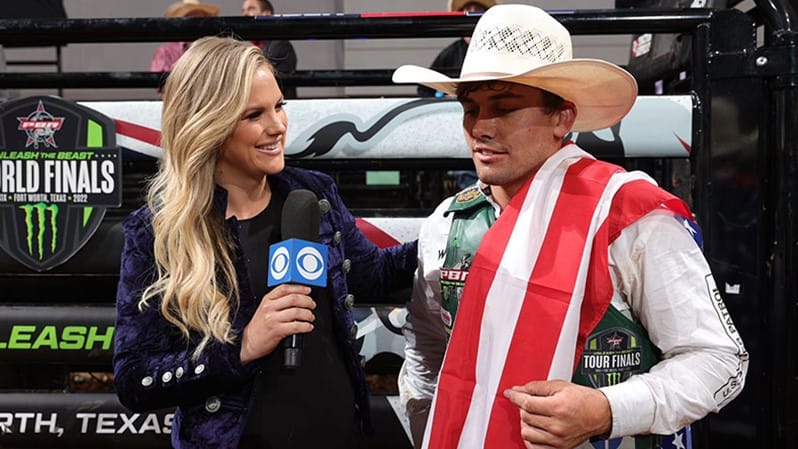 When the bucking chute opens on the new PBR Team Series in Cheyenne, Wyoming, on Monday, July 25, broadcast history will be made.
Kate Harrison will be calling the action as the lead play-by-play announcer and voice of the new bull riding league featuring five-on-five bull riding games in a 10-event regular season running toward a championship in Las Vegas in early November.
The role makes Harrison a pioneer, a weighty label that comes after running across the dirt as a PBR on CBS sideline reporter at the World Finals in May, then going home to California to give birth to her new daughter Bo ten days later.
Bones are broken in the sport Harrison announces on television, and now she's breaking a proverbial glass ceiling.
This news of a woman stepping in as network host, play-by-play voice, and primary face of the new league is a first for any major male-dominated professional sport.
Harrison will be positioned in the broadcast booth right between the bucking chutes at dirt level – a new look for PBR.
In a break from how virtually every major sport is televised for fans, the audience inside the arena will be able to hear her calls, as will the TV audience at home.
Over a 122-game regular season, Harrison will be calling broadcasts including a Sunday Game of the Week slated for either CBS or CBS Sports Network and streamed on Paramount+, as well as live events on Friday and Saturday on CBS Sports Network and Pluto TV – 65 hours in all.
Harrison will draw on her rodeo background, broadcast journalism experience, and six seasons as a sideline reporter for PBR on CBS as the voice of the new league.
A University of Southern California graduate and former Hollywood stuntwoman, Kate "grew up in the dirt," the daughter of a rodeo team roper and stuntman who was on the back of her daddy's horse when she was only a year old.
She got her start in front of the camera at 7 as a precocious stunt double on a TV series based on the popular movie "The Magnificent Seven."
"They told me, 'You're going to run out in the middle of this dirt road and stop. There will be eight horses pulling a wagon and running right at you. Don't move! Someone will tackle you out of the way just before they get to you.'"
Little Kate did it five times, and the stunt made the opening credits for the show. It was her first stunt in the business.
She also performed stunt work in TV series and movies such as "Spy Kids," "Comanche Moon," "Bernie Mac," "Charmed," and "Hollywood Homicide."
After studying broadcast journalism at USC, Harrison hosted shows for the PAC-12 Network and a USC Football pregame radio show for ESPN's Los Angeles operations, as well as a morning show for Radio Disney.
Familiar with team sports, Harrison believes the riders competing on teams will benefit from the coaching, training, and camaraderie endemic in team play.
"We're going to see the riders elevate their game like never before," she said. "And fans new to bull riding will have something new to connect to – they can get behind a team. It's such a dangerous sport, and now riders are putting their life on the line not just for themselves, but their teammates."
She realizes many fans will be surprised to tune into a sport where testosterone coats the air like the humidity in Baton Rouge in mid-August, only to hear a woman's voice.
That makes PBR's decision to choose her all the more gratifying in this critical moment in the trajectory of the sport, as PBR complements the individual Unleash The Beast with a new team series.
"For PBR to stand behind me and take that risk (of having a woman's voice calling bull riding) speaks volumes on where they want to go as a sport," Harrison said. "PBR Teams is about elevating the sport, bringing in new fans, and my goal is to do just that with every call."
As PBR looked for fresh ways to present the new league, the decision to elevate Harrison was easy.
Choosing the former stuntwoman is no stunt.
"Kate was a first-ballot, unanimous decision," PBR CEO and Commissioner Sean Gleason said. "She's a great student of the sport who has been a fantastic member of our broadcast team. Her capabilities were underutilized. It wasn't an issue of us saying, 'Let's put a woman in the role.' Kate was simply the best choice for the position as we looked for a new approach."
PBR's new in-arena presentation also includes new, dramatic, Broadway-style lighting, LED signage around the arena, state-of-the-art digital sound, and a premium experience club lounge behind the bucking chutes.
While Harrison – between the chutes in the eye of the storm – pursues her job fueled by her love of storytelling and Western ways, she also acknowledges and appreciates her new status as a bona fide pioneer.
"Being a woman in this role is a huge opportunity for our sport and for major sports on TV," she said. "We'll make history the moment we go on air for game one. It's a moment I look forward to and understand the weight of. Someday, my grandkids will look up the start of the Team Series, and they'll hear my call. I don't take that lightly."
Known for her diligent preparation – Harrison has developed player profiles for each of the 96 rides in the league – she's an inspiration to all hardworking moms.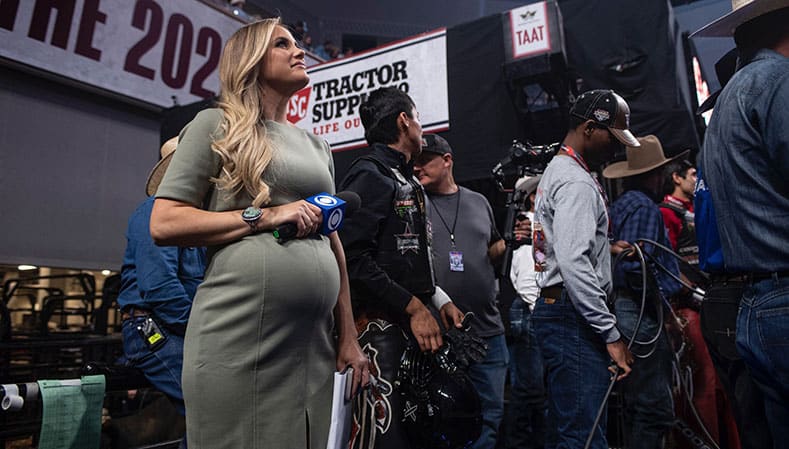 In mid-May, she covered the PBR World Finals in Fort Worth while she was eight months pregnant. Bo Lynn Harrison was born on June 10.
She plans to have the newborn and her brother along for some of her PBR assignments in the 2022 season.
"Flying around with a toddler and a newborn in this new role – there is no manual for that," she says. "But, thankfully, love doesn't need a manual. Loving them comes first, and hopefully, this mama can be an inspiration along the way too. I want my kids to know they can reach for any star and grab it. So don't be surprised if you see me holding a newborn while rehearsing in the middle of the arena."
Andrew Giangola is the author of "Love & Try: Stories of Gratitude & Grit in Professional Bull Riding," available at PBRShop.com with proceeds benefitting the Western Sports Foundation.
© 2022 PBR Inc. All rights reserved.