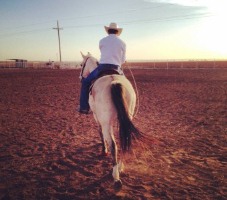 We had the chance to catch up with #TeamWrangler member and ProRodeo bareback rider Ryan Gray on rodeo, becoming a father and his favorite pair of Wrangler jeans. To catch Ryan in action this weekend, make sure to tune in to the Wrangler Network's live stream event of the Red Bluff Round-Up Saturday, April 19 at 2:30 p.m. PDT/5:30 p.m. EDT. To watch live, click here.
Wrangler Network: What are some of your goals for 2014?
Ryan Gray: My goals are to compete at a high level, make every opportunity count.
WN: How have your 2014 competitions gone so far?
RG: It's been good, I feel like I'm riding well. It hasn't reflected in the standings yet but I'm excited for the rest of the year.
WN: What are your top favorite rodeos to compete in and why?
RG: My favorite rodeos are Rodeo Houston, Calgary Stampede, Pendleton Round-Up and the Wrangler NFR. I like rodeos that I can take my family along and spend a few days in one place. As much as we drive it's nice to stay in one place and ride for a lot of money against good competition and great horses.
WN: How has becoming a father impacted your ProRodeo career?
RG: I've always been the kind to go home whenever I get the chance so I will continue that. Lacy has always gone with me as much as possible so now we will have Ransom [his son] to keep us company.
WN: What have you enjoyed most about being a first-time father?
RG: Watching how awesome God is creating a child that's both Lacy and me, it's hard to wrap my mind around it. I also love seeing Lacy become a mother, she's an amazing mom.
WN: What do you and your family enjoy doing in your free time?
RG: We have been enjoying Ransom, watching him learn new things every day. We've been roping a little every chance we get when the wind isn't blowing.
WN: Which Wrangler jeans do you wear for competition?
RG: I ride in the Wrangler 20X Competition Jean.
WN: The Red Bluff Round-Up is later this week. Tell us how you're feeling about the event.
RG: I'm feeling good about it. I love going to California and getting outside in some nice weather and competing in a great rodeo!
Photos courtesy of Ryan Gray