Standings Shuffle: 19 Move Up in Top 15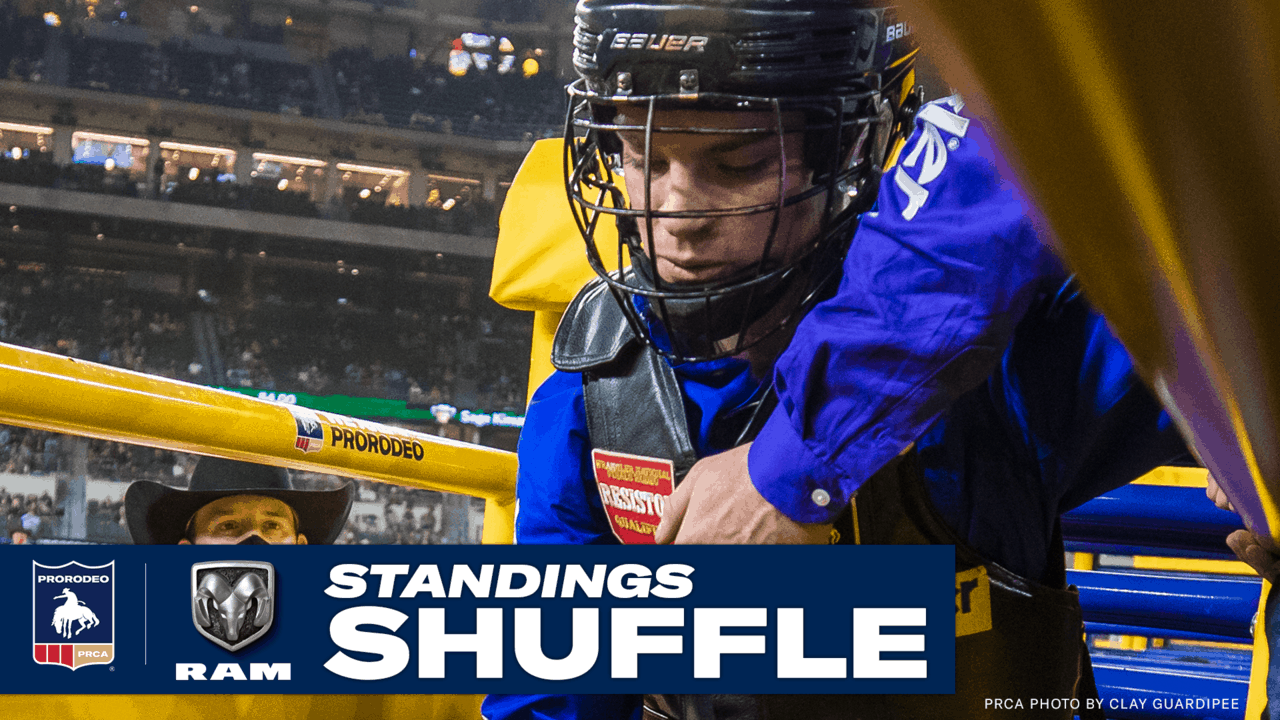 Two Xtreme ProRodeo events fueled some extreme movement within the PRCA | RAM World Standings as the calendar flipped from January to February.
Ky Hamilton took the greatest leap forward in the bull riding standings, going from 17th to fifth thanks to earning $3,070 for his 90.5-point ride on New Frontier Rodeo's Muley Madness at the Rodeo Rapid City (S.D.) PRCA Xtreme Bulls Division 2 event, Jan. 29.
"I think it's just as important now as it is at the end of the year," Hamilton said about climbing into the Top 15. "It sets up your year and gets you a good start so you can get into all those other rodeos when you want to."
The Australian cowboy finished fourth in the world last season with $201,831 and was No. 2 in the PRCA | Resistol Rookie Standings.
"For my first NFR, I was happy, but I was still disappointed in myself and felt that I could have done a lot better," Hamilton said. "It was a big learning experience."
He's taking what he learned his rookie year as he pursues the world title.
"I'm very hungry for it," Hamilton said. "Making it count pretty well every time, that's where I felt I lacked. I let some slip at a few rodeos through the year. I want to make every one count, especially at the big rodeos like San Antonio and The American. If you win them, they'll help you out down the road."
Hamilton is up at Rodeo Rapid City this week, and fans can catch all the action on The Cowboy Channel and PRCA on Cowboy Channel Plus App. (See broadcast schedule)
"I have a good bull at the rodeo this week and hopefully I can keep it rolling in Rapid City," Hamilton said. "I got (Dakota Rodeo's) Smooth Wreck. I've never been on him, but I've seen him a lot and I really like him."
With more major rodeos on the horizon, big jumps such as Hamilton's are sure to happen again. Cowboys who advanced within the Top 15 of their respective events are listed below.
38 Spots
• Cole Elshere moved from 51st to 13th in saddle bronc riding.
12 Spots
• Ky Hamilton moved from 17th to fifth in bull riding.
Nine Spots
• Stetson Wright moved from 12th to third in bull riding.
• Spencer Wright moved from 21st to 12th in saddle bronc riding.
• Luke Branquinho moved from 22nd to 13th in steer wrestling.
Six Spots
• J.D. Struxness moved from 12th to sixth in steer wrestling.
Four Spots
• Chris Bechthold moved from 19th to 15th in bull riding.
Two Spots
• Tony Reina moved from sixth to fourth in steer roping.
• Scott Snedecor moved from seventh to fifth in steer roping.
• Jake Cooper moved from eighth to sixth in team roping heading.
• Jesse Tierney moved from eighth to sixth in steer roping.
• Shay Good moved from ninth to seventh in steer roping.
• Rocky Patterson moved from 11th to ninth in steer roping.
• Jim Locke moved from 12th to 10th in steer roping.
• Cody Lee moved from 13th to 11th in steer roping.
• J. Tom Fisher moved from 14th to 12th in steer roping.
One Spot
• Brody Cress moved from third to second in saddle bronc riding.
• Tegan Smith moved from fifth to fourth in saddle bronc riding.
• John Bland moved from 15th to 14th in steer roping.
Check back with prorodeo.com next week to see who the new leaders are in the world standings.
Courtesy of PRCA