U.S. Catfish Recipe of the Month: Nashville-Style Fried Catfish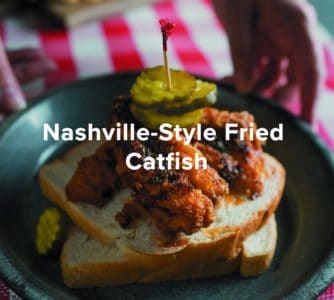 Ingredients
• 4 U.S. Farm-Raised Catfish Fillets, cut into strips
• 1 cup milk
• 2 tablespoons Nashville Hot Sauce
• 2 cups flour
• 2 teaspoons salt
• 1 teaspoon pepper
• 1 teaspoon garlic powder
• 1 tablespoon smoked paprika
• White bread and sliced pickles (for serving)
NASHVILLE HOT SAUCE
• 1 cup vegetable oil
• 3 tablespoons cayenne pepper
• 1 tablespoon red pepper flakes
• 1 teaspoon parsley, dried
• 1 teaspoon salt
• 1 tablespoon hot sauce
• 2 tablespoons dark brown sugar
• 1 teaspoon chili powder
• 1 teaspoon garlic powder
• 1 teaspoon paprika
Instructions
1. COMBINE milk and hot sauce in a bowl; then add catfish. Marinate for 1 hour.
2. PREHEAT deep fryer to 350°F.
3. In a shallow bowl, COMBINE flour, salt, pepper, garlic powder and paprika. Coat catfish evenly with flour mixture, and dust off extra.
4. ADD catfish to fryer and cook 5 minutes, or until golden brown. Repeat in batches until all catfish is cooked.
5. BRUSH each catfish strip with a generous amount of remaining Nashville Hot Sauce.
6. SERVE with white bread and pickles.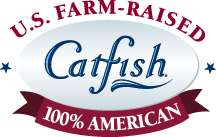 We would love to hear your thoughts after trying this one! I always check the label to make sure it's U.S. Farm-Raised Catfish and so should you. Enjoy 100% All-American!