U.S. Catfish Recipe of the Month: Catfish Almondine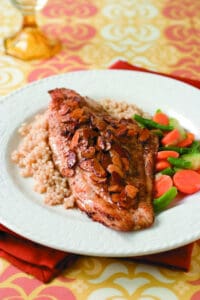 Ingredients:
• 2 U.S. Farm-Raised Catfish Fillets
• 2 tablespoons butter, divided
• ¼ cup slivered almonds
• 1 lemon, zested and juiced
Instructions
1. In large skillet over medium heat, MELT 1 tablespoon butter. Place fillets serving side down and cook for 4 minutes or until nicely browned.
2. TURN fillets; cook for 4 more minutes or until done. Remove from skillet and set aside.
3. ADD remaining butter to skillet. Add almonds, zest and lemon juice. Cook 1 minute or until almonds begin to brown.
4. PLACE catfish on plate and serve with almondine sauce.
We would love to hear your thoughts after trying this one! I always check the label to make sure it's U.S. Farm-Raised Catfish and so should you. Enjoy 100% All-American!